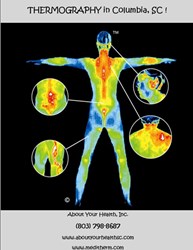 Columbia, SC (PRWEB) October 23, 2013
About Your Health is pleased to be offering its breast thermography services at a discount of 50 percent in recognition of Breast Health Month. Thermography appointments are available on Mondays and Thursdays.
Breast thermography is a non-invasive procedure that involves absolutely no radiation and is FDA approved. It involves using a digital infrared camera to capture the variations in temperatures of the body. The images determine the thermal symmetry or asymmetry of the patient's breasts.
Breast thermography can detect the subtle physiological changes that accompany breast cancer, fibrocystic disease, infection and more. Thermography can be used for almost any part of the body. It is a technique that is valued for its ability to alert changes in the body that may indicate early stages of disease.
About Your Health is located at 120 Kaminer Way Parkway in Columbia, S.C., just off Broad River Road close to St. Andrews Road. To learn more about About Your Health's Thermography or to make an appointment, please call (803)798-8687.
About the company:
About Your Health is a business located in Columbia, South Carolina. Their main focus is health education, as well as offering many health enhancing services to the public including Hyperbaric Oxygen Therapy and Thermography. Their core belief is the same as an age old proverb "No time for your health today, no health for your time tomorrow." They encourage everyone to take what is rightfully theirs (good health) and take it to the limit. About Your Health also offers Breast Thermography, Colon Cleansing, Aqua-Chi foot baths, Far Infrared Sauna therapies, and nutritional counseling. For more information, visit their website at http://www.aboutyourhealthsc.com.