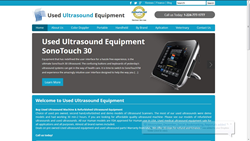 At present we stand tall as the undisputed leader in supplying quality vet equipment both brand new and refurbished at highly discounted rates.
Mount Prospect, IL (PRWEB) May 25, 2014
Mount Prospect, Illinois USA based online vet equipment supplier Used Ultrasound Equipment has emerged as one of the most renowned, revered and reliable names in offering vet equipment solutions to its clients spread all across the world. The inventory of the company is replenished by the most reputed brands like Biolight, Choice med, Emperor, Carewell, Edan, Youbetter, GPC Medical, Read Eagle, Sinorgmed, Welld, Biocare, Kaixin and SonoScape.
A senior official at Used Ultrasound Equipment in a recent interview had this to say, "At present we stand tall as the undisputed leader in supplying quality vet equipment both brand new and refurbished at highly discounted rates. Since our inception, our unwavering resolve to provide high quality yet cost effective vet equipment solution to our clients has not changed hitherto and would never change in the future too. We are all about affordability, reliability and flexibility. The vet equipment especially the ultrasound machines that we stock and sell come with remarkable user interface that is easy to use. To top it all, we also offer insurance on our reliable and superior range of products."
The color ultrasound offered by Used Ultrasound Equipment are high on functionality aspect too as they monitor and measure the movement of red blood cells. During their movement, the RBC's reflect a difference in pitch of the sound waves. This phenomenon is known as the Doppler Effect. The most striking feature of the color Doppler is that it generates images that standard ultrasound equipment cannot generate. The professionals in the field can accurately determine the cause of blocked arteries, valves, congenital heart disease, blood clotting, reverse flow, restricted flow and the deep vein thrombosis.
Elaborating about the color Doppler on offer, the official further opined, "We manufacture high quality color ultrasound machines that find applications among technicians, doctors, veterinarians, farmers and breeders for detecting various ailments and pregnancy conditions in animals at large. To our credit, we possess a wide assortment of different models of sonogram machine like portable, HCU, trolley based, touch screen and vet Color Doppler ultrasound machines. They come with our hallmark quality and assurance from the top manufacturers in the business. Speaking of affordability, we offer superior ultrasound machines at the lowest possible prices. Along with affordability, durability is another aspect where our machines score over the equipment offered by our competitors. No doubt that most of the highly endowed and renowned vets use our products for detecting the causes of various ailments."
At Used Ultrasound Equipment, anyone can buy the best portable color Doppler ultrasound machine at best prices. Those who want to buy used ultrasound equipment, can visit the official website of Used Ultrasound Equipment.
About Used Ultrasound Equipment
Used Ultrasound Equipment based in the Mount Prospect Village of Cook County in US state of Illinois, has emerged as the one-stop destination for buying vet equipment at highly reasonable rates. The online vet equipment store offers a great range of vet equipment from some of the most reputed manufacturers of the market. It also offers superior pre-used equipment to its budget considerate clients at lowest rates. One can buy refurbished ultrasound equipment at affordable rates form Used Ultrasound Equipment. To know more about the offer or to buy affordable used Chison Q6, contact the company officials.
Contact details:
832 E Rand Road Unit 22
Mount Prospect IL 60056
By phone:
630 888 2888;
779 221-2222
By E-mail:
medvetequipment (at) yahoo (dot) com
info (at) keebovet (dot) com
sale (at) keebovet (dot) com
keebovet (at) gmail (dot) com
Keebomed (at) live (dot) com