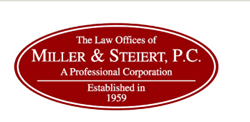 Mollie is an asset to this firm and the community at large and everyone at Miller & Steiert, PC congratulates her on this honor
Littleton, CO (PRWEB) October 03, 2013
Miller & Steiert, PC is delighted to announce that associate attorney, Mollie Hawes has been selected as Arapahoe County Bar Association's 2013 Outstanding Young Lawyer of the Year.
In June at the Association's Annual Meeting, Ms. Hawes was awarded the prestigious Tommy Drinkwine Outstanding Young Lawyer of the Year Award. This award is posthumously named for Tommy D. Drinkwine, the 1983 recipient and practicing attorney in Arapahoe County. The award is given every year to the Arapahoe County young lawyer who best demonstrates a commitment to the improvement of the community, as well as enthusiastic service to clients, the public, and the Arapahoe County Bar Association. Previous award winners include Miller & Steiert, PC shareholders Michael P. Miller and Benjamin E. Currier.
Michael P. Miller, shareholder said, "Mollie is an asset to this firm and the community at large and everyone at Miller & Steiert, PC congratulates her on this honor."
Mollie Hawes is an associate in the Littleton office of Miller & Steiert, PC. Ms. Hawes practices in complex areas of civil litigation and business law. Ms. Hawes practices in both State and Federal Courts in Colorado.
Miller & Steiert, PC is a full-service Colorado law firm of award winning lawyers practicing in the areas civil/commercial litigation, criminal defense, employment law, estate planning, family law, personal injury and wrongful death, probate administration and litigation, real estate, and mediation/arbitraton. The firm was established in Littleton, Colorado more than 50 years ago and is highly experienced in representing business and individual clients with all of their legal needs.
For more information about Miller & Steiert, P.C., please visit http://www.m-s-lawyers.com or call 303-798-2525.