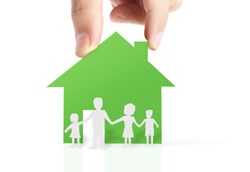 I think we'll look back on the mortgage industry years from now and see mid-2013 as the turning point when interest rates started their permanent ascent.
Centennial, CO (PRWEB) February 18, 2014
The Colorado real estate market has been incredibly dynamic since The Great Recession and housing downturn of the late-2000s rocked home values, not only locally but on a nationwide level as well. In the recovery years that followed, mortgage rates dropped while median home prices and sales crept back up. However, ultra-low mortgage rates could never last forever and now might really be the time for prospective buyers to jump into the housing market while the getting is good, to protect themselves from falling victim to the "double-whammy" of both increasing interest rates and increasing home prices.
Centennial, Colorado-based veteran mortgage advisor Christian Durland reports that while since 2007, much of the mortgage industry has been urging prospective buyers that "now" is the time to buy as rates will tick higher and make home buying less affordable, the fact is that the real turnaround didn't occur until May 2013.
"I think we'll look back on the mortgage industry years from now and see mid-2013 as the turning point when interest rates started their permanent ascent," Durland said. "That is why I think that now truly is the time that interested buyers should seriously consider making a transaction before rates climb any higher, especially given the fact that home prices which started their own accent in early 2012, show no sign of letting up."
But that's not to say that interested Colorado home buyers should hurry into making a deal. The fact remains that buying a new home is one of, if not the most important financial decision an individual will make in their lifetime. So while it is important to be quick in this market, it's equally important not to hurry.
Durland added that it is best to look at mortgage interest rate trends from a broad perspective, as it is common for averages to fluctuate slightly from week to week and month to month. In fact, mortgage rates recently hit three-month lows due in part to a dip in the stock market and mixed economic news. But despite the steep decline, big picture-wise mortgage rates are still in the mid-4 percent range.
Looking ahead, long-term mortgage rate averages are expected to tick up past the 4.5 percent mark and into 5 percent territory heading into 2015. Looking even further ahead, these interest rate averages could reach 5.5 percent by late 2015 and into 2016. , making it clear that ultra-low interest rates are a thing of the past, therefore, since home prices are too expected to continue to increase over the next few years, the time to buy a new home in Colorado is nigh.
About Christian Durland:
As a well-established mortgage advisor with extensive knowledge of the intricacies of Colorado mortgage planning, Christian Durland's decade-plus of experience in his field has also allowed him to develop an elaborate network of Denver-area real estate professionals whom he can refer clients to, based on specific mortgaging needs. Operating outside of the conventions of simple real estate transactions, Durland prides himself on his ability to guide borrowers through every step of the home buying process in order to help maximize their savings. It's his success in these endeavors that has won him a reputation for being a trusted figure and foremost authority in the Colorado real estate community. Durland is also a multi-time recipient of the locally coveted 5280 Denver's Magazine's "Top Mortgage Professionals Award", which is awarded to Denver's most elite mortgage bankers and brokers annually.