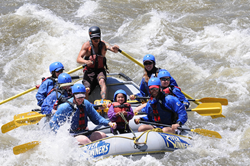 This has been a dream season as far as quality of whitewater on the Arkansas River.
Buena Vista, CO (PRWEB) July 10, 2014
River Runners, a whitewater rafting company with two locations in central Colorado, says flows on the Arkansas River have tapered off, but should remain good through its projected closing of September 1, 2014.
The Upper Arkansas River is running nearly double the volume of water that is normal for this time of year, but flows have dropped enough to lift high water advisories, according to Travis Hochard, general manager, River Runners.
"This has been a dream season as far as quality of whitewater on the Arkansas River," Hochard said. "We had a sustained spring runoff that is still providing great flows for rafting."
The Royal Gorge is running 1,620 cubic feet per second (cfs), the Browns Canyon is running 1,450 cfs, and the Numbers is running 1,320 cfs, according to the United State Geological Survey (USGS) website.
"These are considered medium flows for whitewater rafting on the, which is great for business," Hochard explained. "It is not too high or too low."
River Runners has seen an increase in business over the past two seasons, which were below average water years, according to Justin Peevler, Royal Gorge operations manager, River Runners.
"Just like the ski industry sees a bump from a good snow year, so does the rafting industry when all of that snow melts," Peevler said.
River Runners is offering a 25 percent discount on weekday rafting trips through the Royal Gorge and the Bighorn Sheep Canyon sections of the Arkansas River. You can book online with promo code 'weekday', call 800-723-8987 and ask for the deal.
River Runners has been rafting Colorado's Arkansas River since 1972. Raft from Buena Vista or Canon City, Colo. from April 1 – Labor Day. Choose from half-day, full-day and overnight rafting trips on beginner, intermediate and advanced whitewater. Call 800-723-8987 or book your rafting trip online today.