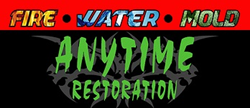 This includes water removal and drying, carpet cleaning and mold removal, as well as any structural repair and restoration that the property may require
Colorado Springs, CO (PRWEB) October 19, 2013
Colorado Springs water damage restoration companies should be chosen carefully. Anytime Restoration, one of the leading providers of water damage, flood repair and disaster restoration services in Colorado Springs is offering recommendations to property owners for finding an experienced and competent service provider. As severe weather continues to pound much of the U.S., water damage problems will be commonplace, and it is important to have first-rate service when repairs are needed.
Ideally, Colorado Springs water damage restoration companies should be available 24/7, since water and flood problems require immediate treatment in order to prevent any subsequent long term problems from taking hold. Water continues to cause damage for as long as it is allowed to remain standing, and given enough time, additional problems such as mold may start to grow. The end result is additional time, effort, and finances being committed to return the property to its pre-loss condition.
"The ideal company will also offer a full range of services designed to handle any and all aspects of water and flood damage. This includes water removal and drying, carpet cleaning and mold removal, as well as any structural repair and restoration that the property may require," says Justin Milligan, Owner of Anytime Restoration in Colorado Springs.
The ideal company will be certified by an industry authority such as the Clean Trust or the Restoration Industry Association. This is a clear sign that the company in question has committed itself to making sure that all of its personnel are properly educated, trained, and experienced across all aspects of fire and water damage restoration in Colorado Springs.
The best time to secure a water restoration company is before a problem occurs. Having the contact information will be invaluable when it comes to an efficient, timely response to any water damage event. While smaller spills may be handled by the property owner, larger water problems are best left to the professionals.
Based in Colorado Springs, CO, Anytime Restoration is one of the leading providers of water restoration service in the area according to their Yelp reviews. They are available 24/7 and all work is guaranteed. Call them now at (719) 239-3496 for water damage restoration Colorado Springs.
Anytime Restoration
1431 Pando Ave
Colorado Springs, CO 80905
(719) 239-3496