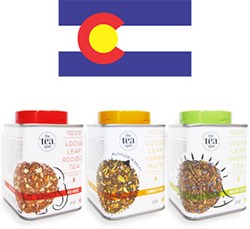 Boulder, CO (PRWEB) January 14, 2014
The Tea Spot announces today the expansion of its premium tea collections with a new tea gift selected to facilitate relaxation and a feeling of wellness, especially at high altitude. Named "Rocky Mountain High," the launch of this tea collection is perfectly timed to offer an alternative natural product for Coloradans and others seeking an enhanced feeling of well-being.
The development of The Tea Spot's line of locally-inspired handcrafted Colorado teas begins with select whole leaf teas. All premium tea leaves find their origin in the Camellia sinensis plant. The tea leaf contains phenolic compounds, vitamins, minerals, amino acids, and caffeine, amongst other compounds. When being processed into a finished oolong, black, white, or green tea, the various compounds in the Camellia sinensis leaves are transformed by oxidation. The resulting tea products therefore have differing chemical and flavor profiles.
Select premium whole leaf teas and herbs are often chosen to be consumed for wellness, and a host of relaxation benefits. Some of the naturally-occurring compounds in tea leaves are associated with feelings of euphoria and a state of calm alertness. Specifically, theanine is used as a mental and physical relaxant that does not induce drowsiness, and is used for treating anxiety and high blood pressure; and theobromine, which remains in the blood stream much longer than caffeine, is sometimes used as a mild antidepressant and aphrodisiac.
The three premium tea blends included in The Tea Spot's Rocky Mountain High collection are:
Red Rocks - The Tea Spot's best-selling caffeine-free herbal infusion is a blend South African red rooibos, vanilla, and roasted almond bits.
Climbers High - This energy boosting chai tea blend of teas, spices and herbs is formulated to provide a physical and mental lift for people with active, high-energy lifestyles, especially at higher altitudes. This spiced chai tea contains roasted yerba mate, black tea, green tea, white tea, pu-erh, ginger root, cinnamon, green cardamom, licorice root, eleuthero root, saffron, black pepper, clove, fennel, safflowers, peppermint, tulsi leaf, and vanilla flavoring.
Boulder Blues - The Tea Spot's best-selling green tea is a blend of fine Japanese Sencha and high grade Chinese Dragonwell with wild strawberry and rhubarb flavors for a subtle twist.
The Rocky Mountain High tea collection retails in a gift box for $29.95 – 15 percent off the price of the individual tea tins. To launch the new collection, The Tea Spot is offering an initial 20 percent discount off the price of the items combined for one week starting today. This discount is available to all shoppers at The Tea Spot's online tea store, http://www.theteaspot.com.
About the Tea Spot:
The Tea Spot is a leading producer of handcrafted loose leaf teas and creator of Steepware®, the housewares tools that make loose tea easy. The company's vision to modernize the loose leaf tea experience has held steadfast since the for-profit philanthropic company was founded by Maria Uspenski in 2004, a cancer survivor drawn to the health benefits of leaf tea during her recovery. Her message is simple and powerful: tea in its freshest form renders premium flavor, unmatched health benefits, and is eco-friendly. The Tea Spot's model of social entrepreneurship incorporates its mission to foster health and wellness through loose leaf tea, with its 10% Pledge. Ten percent of the company's profits are donated in-kind to cancer and community wellness programs. The Tea Spot is a Boulder, Colorado-based woman owned and operated business.