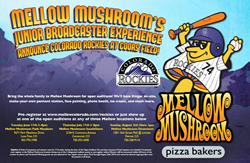 Denver, Colorado (PRWEB) June 14, 2014
Open auditions for kids 12 and under to have the opportunity for a once in a lifetime experience to be a Colorado Rockies Junior Broadcaster this summer, begins on June 17 at the Mellow Mushroom Pizza Bakers Park Meadows location.
Auditions will take place for accompanied children throughout the summer at each Denver area Mellow Mushroom and will be available on a first come, first serve basis.
Each winner will receive 4 VIP club level tickets and a parking pass, get recognized at an on field pregame festivity with an appearance on the jumbotron, be the announcer for the Rockies lineup during the second inning, and go home with a Colorado Rockies shirt, hat and a lifelong memory.
Below is a list of the audition dates and locations:
Tuesday, June 17, from 5 p.m. to 8 p.m.
Mellow Mushroom Park Meadows, 9271 Park Meadows Drive, Lone Tree, Colorado
Thursday, July 17, from 5 p.m. to 8 p.m.
Mellow Mushroom SouthGlenn, 2154 E. Commons Avenue, Centennial, Colorado
Sunday, August 3, from 10 a.m. to 2 p.m.
Mellow Mushroom Downtown, 1201 16th Street Mall @Larimer, Denver, Colorado
Along with the audition process comes events for the entire family. Dinger, the mascot of the Colorado Rockies, will be onsite, along with a make-your-own pennant station, face painting, a photo booth, ice cream and much more.
For a chance to preregister for the audition process, visit http://www.mellowcolorado.com/rockies. For more information on Mellow Mushroom Pizza Bakers Denver, Colorado, visit mellowmushroom.com and like us on Facebook at https://www.facebook.com/MellowMushroomColorado.
About Mellow Mushroom Pizza Bakers
Mellow Mushroom Pizza Bakers (mellowmushroom.com) was founded in 1974 in Atlanta, Georgia. This franchise, operated under Home-Grown Industries of Georgia, Inc., is headquartered in Atlanta, Georgia. For 40 years, Mellow Mushroom Pizza Bakers has been serving up fresh stone baked pizzas to-order in an eclectic, art-filled and family-friendly environment. Each Mellow is locally-owned and operated with a unique feel focused around great customer service and high quality food. For more information on Mellow Mushroom Pizza Bakers like us on Facebook at facebook.com/mellowmushroomHQ, follow us on Twitter at twitter.com/MellowMushroom and follow us on Pinterest at pinterest.com/mellowmushroom.
Media Contact:
Tammy Lucich
(404)-505-2801
tammy(at)mellowmushroom(dot)com