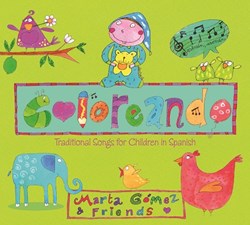 Our ultimate goal is to empower children by teaching them a second language free of charge, and music helps to enhance the teaching, while providing a fun way for whole families to be impacted.
New York, New York (PRWEB) October 22, 2013
Global Language Project is thrilled to release their first musical CD, "Coloreando" on October 29, 2013. The lively recording, featuring acclaimed vocalist Marta Gomez, is a compilation of popular folk and classic songs, that Spanish speakers typically learn in childhood. "Coloreando" brings vivid pictures of childhood to life, while creating a familiarity and igniting a love of the Spanish language for native and non-native speakers. The songs for the project were chosen because of their infectious melodies, as well as each song themes' universal relevance to children around the world.
"Our ultimate goal is to empower children by teaching them a second language free of charge, and music helps to enhance the teaching, while providing a fun way for whole families to be impacted by the new language being learned," said Angela Jackson, founder of Global Language Project. "We're hoping this music project will be the first of many we record in a number of languages."
The distinct vocals of Marta Gomez make the CD an appealing choice for entertainment-only listening for children and adults. Gomez agreed to be a part of the project to celebrate her Latin American roots in song, and to help advance Global Language Project's continued mission. A portion of proceeds from Coloreando will be used to educate additional youths with language education free of charge.
"When I was invited to record the vocals for these traditional Spanish songs, I was personally excited because I have loved some of these since my childhood," shared Marta Gomez, the Billboard Music Award nominated vocalist, for Coloreando. "I can't wait to hear how children will respond to the songs, their positive messages and the important lessons they teach."
The songs include Un Elephante, a classic song throughout Latin America and Spain, which is a fun way to teach children to count by singing a song about a silly elephant. This is just one example of how the CD shares true language education, covered in catchy tunes. The CD is accompanied by a colorful work booklet of Spanish to English lyric translations and fun practice lessons, making Coloreando a must have item for family libraries. The pre-launch buzz for the project in the education and parenting communities are a clear demonstration that there is a demand for innovative youth language teaching tools. Global Language Project hopes to transform the enormous support for the Coloreando project into an opportunity to create music CD's in other languages, in the future.
Track listing:
1. Con Real y Medio - With a Nickel and a Half
2. El Barquito Chiquitito - The Little Boat
3. En Coche Va una Niña - A Girl Rides in a Carriage
4. La Pájara Pinta - The Spotted Bird
5. Los Pollitos Dicen Pío, Pío, Pío - The Chicks Say Peep, Peep, Peep
6. Materile Rile Ro - Materile Rile Ro
7. Naranja Dulce - Sweet Orange
8. Pican, Pican las Goticas - The Rain Drops Fall, Fall
9. El Puente de Aviñón - The Avignon Bridge
10. De Colores - In Colors
11. Al Pasar la Barca - As the Boat Sailed
12. Cucú Cantaba la Rana - Cucu Sang the Frog
13. Aserrín, Aserrán - Aserrin, Aserran
14. Chumba - Chumba
15. A la Nanita Nana - Let ́s Sing a Lullaby
16. Un Elefante - An Elephant
Bonus Track: Imagino - I Imagine by Marta Gómez
For more information, go to http://glp4educators.org/coloreando-cd/ and http://www.Amazon.com.
For more information on Marta Gomez and Coloreando, visit: https://www.youtube.com/watch?v=DjwvxrTK6x0.
About Global Language Project
Global Language Project is a registered 501(c)(3) organization in New York City, to support its mission to empower low-income students to succeed in our globalized works and workforce through foreign language learning. Currently, Global Language Project teaches Arabic, Mandarin and Spanish to the children that are enrolled in the acclaimed program. http://www.globallanguageproject.org.