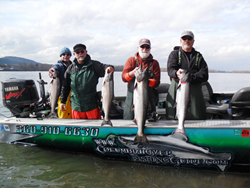 It is a mind-boggling forecast, and the largest fall Chinook return since at least 1938.
Vancouver, Wa (PRWEB) February 27, 2014
Columbia River Fishing Guides serving Washington and Oregon in the Northwest states announced that fishery managers released exceptionally large Columbia River Chinook forecasts this month. This is an exciting indication that there could be a landmark return of nearly 3 million Chinook and coho this coming season. Pre-season projections anticipate a stunning run of 308,000 adult spring salmon to the Columbia River this year, this is up significantly from last year's return of more than 195,000 fish.
Experts are still examining if last year's blockbuster run, and the even greater forecast for 2014, is an indication of new trends for the Columbia River Basin. So, it's time to take full advantage of great Columbia River fishing guides in the Northwest.
Most of the 2014 forecast are upriver bright Chinook with projections at over 973,000. Christian Witt, owner and operator of Columbia River Fishing Guide, is excited about the opportunity to share his passion for fishing with his customers during this extraordinary season. The majority of salmon are caught in-river, with some in the highly popular late-summer Buoy-10 fishery at the mouth of the Columbia River. Christian encourages anyone who has considered fishing to come out and experience this extraordinary salmon season with one of his experienced Columbia River fishing guides.
Chinook salmon are among one of the most fun fish to catch. Adult size Chinook, also known as king salmon, range in size from 24 to 36 in., but can be as long as 58 in.; while they average 10 to 50 lbs., but can reach as much as 130 lbs. They can put up quite a fight, which makes for an exciting trip out on the river. With this season's forecast of numbers it is a great time for novice fishers to come out and experience the thrill of catching your own dinner. Book a trip with some seasoned Columbia River fishing guides to go out and enjoy the bounty of our region's rivers.
"It is a mind-boggling forecast, and the largest fall Chinook return since at least 1938," said Joe Hymer, a state Fish and Wildlife biologist, in The Seattle Times. "We'll see if this is a one-time deal or if more could happen in the future." So, if you have never tried salmon fishing in our local Northwest rivers, this is a great year to throw out a line and catch the big one. Early booking for one of the local Columbia River fishing guides, like Christian Witt of Columbia River Fishing Guide, is recommended. Scheduling a trip early with a seasoned guide gives you a chance to experience the satisfaction of fishing without having to invest in gear and ferret out the best fishing spots.
The dramatic 2014 salmon run forecast may be a credit to the fact that salmon stocks in recent years are still benefiting from upwelling of colder water from La Nina. This produces better ocean survival rates for the entire food chain. Chris Kern, of Oregon Fish and Wildlife, has said the Chinook that are contributing to this year's return hatched in years when the Columbia River was running high, which makes it easier for juvenile fish to reach the Pacific Ocean. So, while the experts are discussing the reasons for the phenomenal forecast, you can hire one of the very accomplished Columbia River fishing guides in your area. Let the professionals handle the details, so that you can enjoy your time out on the river, and catch a big one.
Related Search Phrases:
[Columbia River Fishing Guides][Columbia River Fishing Guide][Columbia River Salmon Guides][Columbia River Sturgeon Fishing Guides][Christian Witt][Christian Witt Woodland, Washington][Washington Fishing Guides][Columbia River Fishing][Lewis River Fishing Guides][Google Trending][Breaking News]
Related Hashtags:
#columbiariverfishingguides #fishing #salmon #chinnoksalmon #columbiariverfishingguide #fishingtrip
For more information about this topic, please contact Christian Witt by calling 360-910-6630 or going to http://www.ColumbiaRiverFishingGuide.com.