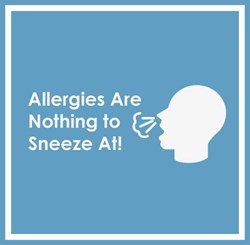 We published the infographic as a way to inform people of what allergies are and how you can treat them.
Dublin, Ohio (PRWEB) July 16, 2013
Dr. Summit Shah, lead allergist at Premier Allergy, announces a new infographic to help educate the public about allergy statistics. The infographic is entitled "Allergies Are Nothing To Sneeze At" and includes valuable information about allergens, statistics, costs, and treatment options.
"We think infographics are a great way to condense a lot of important information," says Dr. Shah, the Ohio allergist behind the design. "It's just one way of conveying information to the public that helps them really think about something they may be experiencing. We published the infographic as a way to inform people of what allergies are and how you can treat them."
The graphic is laid out in different sections. The first section talks about the science of sneezing and what can set it off. In addition to pollens and dander, triggers such as bright sunlight or exercise can actually cause one to sneeze. The second section is about allergy facts, showing how different allergens come at different times of the year as well as some statistics about how many Americans suffer from symptoms. The third section shows the costs related to allergy problems: an estimated $14.5 billion. Over 30,000 emergency room visits are due to an allergic reaction. It's the number two reason why adults call out of work and symptoms keep over 40% of children from being active.
The final section talks about allergy treatment options. From over the counter and prescription medications to allergy shots and rush immunotherapy, there's information on how each can be helpful to those who suffer seasonal symptoms. Premier Allergy provides these and other treatments and procedures for all kinds of allergens like pollen, dander, food, medicines, and chemicals. They work with both children and adults to help alleviate seasonal symptoms and educate individuals about their unique situation.
"No matter which treatment option you choose, we encourage people to contact an Ohio allergist from our practice," says Dr. Shah. "Allergy sufferers can really benefit from visiting a member of our staff. We can create a customized treatment plan to help manage your allergies."
To meet with an allergist in the Ohio area or to learn more about what is offered at Premier Allergy, prospective patients can visit http://www.premierallergyohio.com/ or visit one of their eight convenient locations. Click here to view Premier Allergy's infographic, "Allergies Are Nothing To Sneeze At."
About Premier Allergy
Dr. Summit Shah is the lead allergist at Premier Allergy. As the winner of the prestigious America's Top Allergist award and medical advisor to the "My" Food Allergy Support Group, he is committed to helping patients find relief from all types of allergies, including food allergies and environmental allergies. Premier Allergy also has seven other convenient locations in the Columbus area.