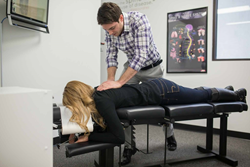 We are combining this workshop with a community potluck to enjoy a healthy meal together
Powell, OH (PRWEB) November 11, 2014
Riverside Family Chiropractic, a chiropractic office in Columbus Ohio that offers people all natural care, is pleased to announce an upcoming workshop that will help people avoid holiday weight gain, while also learning about the dangerous effects of sugar.
The "Bittersweet: the Sharp Bite Behind the Holiday Rush" workshop will take place from 6:30 to 7:30 p.m. on Monday, November 17 at Riverside Family Chiropractic, 10248 Sawmill Pkwy in Powell, Ohio. People who wish to register for the event may do so on the Eventbrite page or in the office, where they may also pick up a recipe for an Advanced or Core Plan dish for the potluck which will take place at the end of the workshop.
"We are combining this workshop with a community potluck to enjoy a healthy meal together," said Columbus Chiropractor Dr. Lee Thomas from Riverside Family Chiropractic.
As Dr. Lee, as his patients call him, explained, the average person gains at least one pound during the holiday season.
"That is like tacking 16 ounces of shortening or four sticks of butter onto your frame. People who are already overweight tend to gain more than a pound; studies report some gain up to seven to 10," he said.
During the workshop, Dr. Lee will also discuss ways that people can stay as stress-free as possible during the busy holiday season, as well as how they can remove toxins from both their body and mind.
For Dr. Lee, offering the workshop is another great way to spread the message about the importance of healthy living, and teach people how and why the foods that they eat can have a definite impact—either positive or negative—on their health.
Anybody who would like to learn more about Riverside Family Chiropractic is welcome to visit their user-friendly website; there, they can read about the services that Dr. Lee provides his patients.
About Riverside Family Chiropractic:
Riverside Family Chiropractic is a Columbus Ohio chiropractic office that works with people to achieve their health and fitness goals through all natural care. Owned and operated by Dr. Lee and his wife Tristan, Riverside is a part of the Maximized Living network that believes that there are 5 essentials to living a healthy life. For more information, please visit http://riversidefamchiro.com/.
Riverside Family Chiropractic
10248 Sawmill Pkwy
Powell, OH 43065