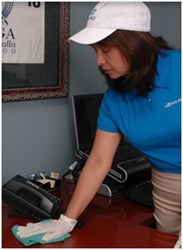 We have tried many processes to disinfect surfaces over the years and we have yet to find anything that compares to this type of commercial cleaning disinfectant
(PRWEB) December 05, 2013
Fighting infection is an issue everywhere right now. According to MRSA Survivors Network, more Americans die annually from invasive methicillin-resistant Staphylococcus Aureus (MRSA) infections than from HIV/AIDS, H1N1 influenza and Parkinson's disease. These deaths are caused by making physical contact with contaminated areas which includes light switches, door knobs and bathroom fixtures. Killing bacteria is essential in preventing the spread of these infections.
A Columbus commercial cleaning company, Jan-Pro, offers a system called the EnviroShield Spray Disinfecting System which can help fight these flu bacteria. The Owner of Jan-Pro Columbus, Rick Wolverton, told us, "EnviroShield is a high performance method of disinfecting surfaces that are normally difficult to reach." EnviroShield provides users with a sprayer nozzle that adds an electrostatic negative charge to the disinfecting solution as it is applied, so that it actually surrounds and clings to the surface it touches. This means that, the system will safely disinfect anything that it comes in contact with. It can be used on office desks and furniture (no worries about damp papers, the Electrostatic System is dry to the touch), bathrooms, kitchens, anywhere that people come in contact with.Since "Enviroshield" is applied through an electrostatic applicator, the operator just points the tool at all surfaces that need to be disinfected and the disinfectant thoroughly coats all surfaces front, back and in between.
The disinfecting agent used in the "EnviroShield" system is a product called EnviroTru®, it is a multi-purpose disinfectant and deodorizing cleaner that meets all EPA requirements for Toxicity Category IV (no harmful dermal, ocular, inhalation or ingestion effects). Environmentally safe, EnviroTru requires no special handling, does not require protective clothing, gloves or special ventilation or biohazard disposal, is non-flammable, and poses no health risks or side effects.
The "Enviroshield Sprayer achieves 100% coverage. Rick also went on to tell us, "We have tried many processes to disinfect surfaces over the years and we have yet to find anything that compares to this type of commercial cleaning disinfectant."
To learn more about this product or have questions regarding commercial cleaning in Columbus, please contact Jan-Pro at 614-569-3270 or you can visit them online at http://cleaningcolumbusohio.com