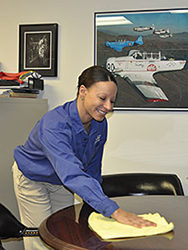 The best defense for illness during this change in season is a clean and bacteria free environment.
Columbus, OH (PRWEB) November 20, 2014
A great many commercial cleaning contracts in Columbus, Ohio will be up for renewal at the end of this year. Many people see the start of a new year as a time to make adjustments and improvements to their business and their life in general.
Most commercial cleaning contracts are in force for one year and most of those contracts automatically renew for another year if the customer does not cancel prior to renewal. Contracts protect both the vendor and the customer as an agreed upon service that is to be performed at and for agreed upon price.
In this arrangement, the vendor deserves to be paid timely for providing the services that were promised and the customer deserves to receive those services as promised. If this part of the bargain is not working, then the janitorial contract may be need to be challenged against other vendors in the local marketplace. If a building owner or management company's vendor is not delivering on the promises made during the sales process, then that vendor does not deserve to keep ones business. These are competitive times and vendors need to appreciate their customers by providing exceptional services.
Rick Wolverton, a Columbus janitorial service company native states, "The best defense for illness during this change in season is a clean and bacteria free environment."
Some things building owner or management company's may want to think about when the cleaning contract is coming up for renewal, might be:

Is the trash removed regularly and new trash liners replaced each time and tied snug around the top of the trash container? Is the trash container washed if it's dirty?
Are there spider webs in the upper and lower corners of the building owner or tenant's office? This is the time of year when the bugs seek refuge indoors. More emphasis needs to be placed on eliminating those.
As building Owner or the management company is there a floor care program in place? Carpets should be cleaned regularly and some floors require a finish and regular maintenance. Winter is approaching and salt residue can ruin floor surfaces.
Is a disinfection services for the upcoming cold and flu season, such as Enviroshield in the janitorial services being provided or offered?
Can the janitorial company be reached day or night? Are calls returned promptly?
Does the cleaning crew effectively communicate with the appropriate staff at the office(s)? Being able to report and then appropriately respond to any feedback is a pillar of effective service.
Is building or office secured every night after the cleaning crew leave? Are lights left on, or doors left unlocked?
Is the entrance to the building clean and inviting? Special attention should be paid to entry glass and reception areas. It represents the first impression of any new customer.
To learn more about this product or have questions regarding commercial cleaning in Columbus, please contact Jan-Pro at 614-569-3270 or you can visit them online at http://cleaningcolumbusohio.com/