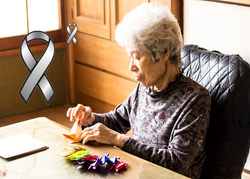 We know how devastating this disease can be for everyone affected by it, and we want to help by providing them with the necessary education and support to guide them and their families.
Columbus, Ohio (PRWEB) October 16, 2017
Erlanger Agency has announced the latest beneficiary of their thriving community involvement program serving the families of Central Ohio. The new campaign fundraises for Parkinson's Disease on behalf of Juliana Frey, a loyal client who died from the disease in 2014. Her son, Tony, has been fundraising for the National Parkinson Foundation in honor of his mother for the last five years. Donations to Tony Frey's Angel Brigade to End Parkinson's Disease are now being accepted at http://movingdaywalk.org/event/moving-day-columbus/team/42657/.
The National Parkinson Foundation is a nonprofit organization dedicated to providing support to individuals and families affected by Parkinson's disease through support groups, education, awareness, and the support of research. As many as one million Americans and more than ten million people around the world live with Parkinson's, which is more than the number diagnosed with multiple sclerosis, muscular dystrophy and Lou Gehrig's disease combined. It is believed that countless others go undiagnosed because Parkinson's is an insidious neurodegenerative disease which progresses slowly in most people. Since there is no cure, doctors focus on controlling its many symptoms, encouraging patients and their families to learn to manage the disease and continue to live full lives.
"We know how devastating this disease can be for everyone affected by it," said Bob Erlanger, owner of Erlanger Agency, "and we want to help by providing them with the necessary education and support to guide them and their families."
To make it easy for compassionate members of the community to help without it impacting their own wallets, the agency has pledged to donate $10 to the cause for each and every referral they receive for a no-obligation insurance quote over the course of the campaign. Recommendations of friends and family may be made at http://www.erlangeragency.com/Angel-Brigade-To-End-Parkinson_E2_80_99s-Disease_22_community_cause.
In the meantime, Erlanger Agency is busy promoting the initiative through a dynamic social media and email outreach campaign, as well as by featuring Tony Frey's Angel Brigade in this month's issue of their community magazine, Our Hometown. Delivered monthly to thousands of households in and around Columbus, the current and archived issues may be enjoyed by clicking http://www.erlangeragency.com/Our-Hometown-Magazine_46.
Erlanger Agency has made an ongoing commitment to positively impact the communities it serves by vigorously seeking out and supporting local worthy causes through the innovative 'Agents of Change' movement. Their celebrated Community Program has enriched numerous local charities and families in need since its inception. To review past causes and bookmark the page for future reference, please visit http://www.erlangeragency.com/community-cause. Readers are invited to suggest organizations, families or individuals to target for future campaigns at http://www.erlangeragency.com/Add-Community-Cause_45.
About Erlanger Agency
Serving the families and businesses of Central Ohio from offices in Clintonville, Erlanger Agency has one simple mission: to provide the finest insurance and financial services in the industry, while delivering consistently superior service. Bob Erlanger and his team of caring professionals believe in protecting all the things which are most important to their clients (their families, homes, cars, businesses and more), and in helping to prepare long-term strategies to enable financial security and success. Their dedicated agents may be reached by calling 614-451-6600. More information on the agency may be found at http://www.erlangeragency.com/.