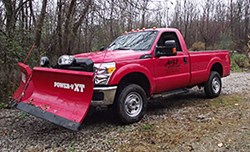 We want to be there to help our residential and commercial customers be secure against the dangers of unplowed sidewalks and driveways
Columbus, Ohio (PRWEB) January 07, 2014
A&RJ Landscape answers corporate and private customer's demand for expanded services just as harsh winter weather hits central Ohio.
More than two decades specializing in hardscape patios and outdoor living environments means A &RJ Landscape knows what it takes to keep people comfortable and enjoying their front or back yards year round. Now they are working to keep their customers safe and secure in the ice and snow.
Customers may now call A&RJ's plows to come to their residence or business for salting or snow removal. A&RJ uses specials salts and materials designed to protect surfaces and plants. The company also ensures that services provided pose no danger to pets' delicate paws or for potential ingestion.
A&RJ Landscape will quickly and efficiently whisk away snow and ice whether for residential or for business locations. A&RJ Landscape prides itself on offering the very best in customer service, even in the worst of weather.
"Now is the perfect time for us to roll out our new snow services. We want to be there to help our residential customers be secure against the dangers of unplowed sidewalks and driveways while also ensuring our corporate clients are able to provide the best winter experience possible for their own customers," said Karin Jackson, vice-president of A&RJ Landscape. "This expansion was a natural fit for our company and really answers a demand from the people we serve - right when it's needed most."
A&RJ's offers expanded winter service beyond average plowing offerings.
Residential snow removal:

Removal of snow from driveways and sidewalks
Salting of driveways and sidewalks
Special use of a calcium anti-ice mix that is safe for surfaces, pets and plants
Commercial snow removal:

Featuring top priority to commercial contracts
Snow removal of both parking lots and sidewalks
Special use of tiad salt for blacktop and of a calcium mix for sidewalks and cement surfaces that won't damage landscape plants
Other seasonal services include hardscapes, softscapes, landscape design and outdoor staging. Hardscape and landscaping specialties extend to paver patios, retaining walls, seating walls, outdoor kitchens, fire-pits, ornamental ponds, fountains, pergolas, driveways, walkways, putting greens, mailbox holders, light posts, cisterns, drainage, and more. A&RJ Landscape also offers tree and shrub planting, mulching, bed edging, yard clean up, fertilizing, irrigation, sod and grass seed, forest restoration, privacy tree fence rows, and gardens.
###
About A&RJ Landscape
A&RJ Landscape has been serving the greater Columbus, Ohio area for 22 years specializing in Hardscape Patios and Outdoor Living Environments. The company has evolved into a total landscape solutions company, completing projects in every outdoor application. You can contact A&RJ Landscape at 614-395-5199 or by logging on at http://arjlandscape.com/