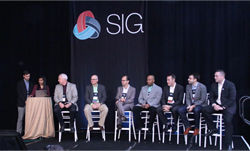 Our recent Summit highlighted the importance of disruptive technologies in the world of procurement.
Columbus, Oh. (PRWEB) April 05, 2017
SIG, the premier membership organization for sourcing, procurement and outsourcing executives, today announces a one-day SIGnature event to be held in Columbus, Ohio this week, preceded by a 3-hour CPO networking event and breakfast meeting. The CPO Meet & Eat will kick off the events in Columbus on Thursday, April 6. An exclusive group of C-level executives will convene to discuss the CPO agenda and priorities for 2017, share a meal and hear from their peers.
On Friday, April 7, the dialogue will continue at the Columbus SIGnature event, taking place from 8:00 am to 5:00 pm. Both events are being hosted at Honda North America. The SIGnature event provides education and local networking for professionals from Fortune 500 companies. A combination of practitioner presentations, facilitated roundtables and panel discussions, a SIGnature event enables delegates to converse in a collegial, non-commercial environment.
The Columbus SIGnature event has a packed agenda with a wide variety of topics ranging from value realization to disruptive technologies and more. Leaders from Honda, Abercrombie & Fitch, Thirty-One Gifts, Huntington National Bank, Symphony Ventures, GEP and SAP Ariba will lead discussions on: RPA in Action; Value Beyond Cost Savings; and CPO Rising – The Art and Science of Procurement. In addition, delegates will participate in a facilitated peer-to-peer grand roundtable and smaller round-robin breakout discussions. They will also hear from a senior-level panel discussion on today's challenges in procurement.
Honda's plenary session on RPA in Action will be co-delivered by executives from Symphony Ventures. At the recent SIG Summit, the two organizations worked together to showcase how a routine procedure—in this case, the searching, hiring and onboarding of an employee—could be automated in real-time.
"Our recent Summit highlighted the importance of disruptive technologies in the world of procurement," said Stephani McGarry, Vice President, SIG Global Events. "We are thrilled to be hosted by Honda who is continuing to show their leadership in the space by sharing their experience with other leading companies. On that note, SIGnature events are incredible opportunities for our members to learn from others and make local connections that they can rely on for peer feedback and benchmarking. Honda is a champion in this effort."
About SIG
SIG, http://www.sig.org is a membership organization that provides thought leadership and networking opportunities to executives in sourcing, procurement and outsourcing from Fortune 500 and Global 1000 companies and the advisors who serve them. SIG is widely known as a forum for sharing "next" practices and thought leadership through live networking events, virtual forums and a comprehensive online SIG resource center (SRC), which was developed by and for professionals in sourcing and outsourcing. The organization is unique in that it blends practitioners, service providers and advisory firms in a non-commercial environment. SIG is also the parent organization for SIG University, a one-of-a-kind certification and training program for professionals and executives seeking deep expertise in sourcing and governance for themselves or their teams, as well as Outsource, which provides unrivaled digital content for the opinion-formers and decision-makers at the heart of the outsourcing space.
###