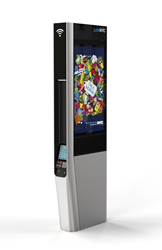 We are honored to be named a finalist in this prestigious competition
Milford, Massachusetts (PRWEB) April 05, 2015
Comark is pleased to announce being named as a finalist in the SBANE, New England Innovation Awards. The Smaller Business Association of New England (SBANE), sponsor of the New England Innovation Awards since its inception in 1986, recently announced the 2015 Finalists. Comark was selected from 175 innovative organizations to compete in the final phase of this competition.
Innovation is at the heart of economic prosperity and SBANE continues to recognize those companies and organizations that have transformed their innovative ideas into a product or service that delivers proven value to customers. Former winners come from varying fields such as technology, manufacturing, service (both for profit and not for profit), and retail / distribution. Winners include notable companies such as Staples, PictureTel, Ben & Jerry's, Brooks Automation, Direct Tire, Genzyme, Nantucket Nectars, Imagitas!, Aurora Imaging Technology, and iRobot.
Winners and Finalists of this prestigious award will be honored at the "Evening of Innovation" Gala Dinner on May 6, 2015 at the Westin Hotel, Waltham MA. The keynote speaker for this Gala Dinner will be Alan S. McKim, Chairman and Chief Executive Officer, Clean Harbors.
"We are honored to be named a finalist in this prestigious competition" said Steve Schott, President and CEO of Comark Interactive Solutions. "Our innovative approach to interactive communications and information display create a win-win for cities, business, and users as urbanization trends drive smart and connected cities".
About SBANE
The Smaller Business Association of New England, Inc. (SBANE), founded in 1938, is a private not-for-profit association of approximately 600 member companies located throughout the six-state region. SBANE was established to provide a legislative voice for small business at the state and federal levels and to make practical information available to help business owners grow their companies. SBANE runs diverse, educational and networking programs each year and has active chapters in Massachusetts and Rhode Island. The membership is characterized by a high degree of participation, reflected in a large and dynamic committee structure, addressing a range of topics from international trade to human resources.
About Comark
Comark, headquartered in Milford MA, designs and manufacture interactive computer and display solutions used in industrial, building and public infrastructure applications.