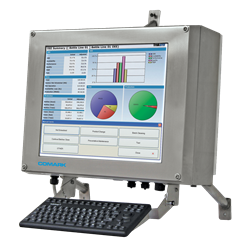 Medfield, MA. (PRWEB) April 05, 2014
Comark, a leading designer and manufacturer of high performance computer and display solutions, has expanded their line of NEMA 4X Thin Client Enclosures by adding more LCD sizes and optional features.
Constructed out of stainless steel, Comark's Thin Client Enclosures support most off the shelf Thin Clients and can come with a 15", 17" or 19" LCD. Front access allows for easy installation of the device.
Additional options include resistive touchscreen, finned extrusion for warmer applications, sealed I/O ports, complimentary peripheral integration, and a variety of mounting options.
To learn more about Comark's line of NEMA 4X Thin Client Enclosures, or to request a quote, please contact Nicole Buckley at (508) 359-8161 ext. 145 or via nbuckley(at)comarkcorp(dot)com.
About Comark
Comark, a leading manufacturer of industrial computers, NEMA 4X enclosures, LCD systems, flat panel displays, thin client solutions, and high speed distributed I/O platforms for over 35 years. As an ISO 9001:2008 Certified Company, Comark LLC is a global provider to Fortune 1000 companies in the industrial automation, military, building automation and self-service automation markets.