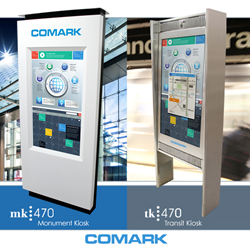 Milford, MA (PRWEB) October 02, 2014
Comark is pleased to announce they will be exhibiting at the APTA Expo (public transportation's premier showcase) at the George R. Brown Convention Center in Houston, TX from October 13th through the 15th (Booth # 5600). Comark will be featuring the award winning TK470, 47" interactive transit kiosk and will be introducing their new MK470, 47" outdoor interactive kiosk.
The TK470 kiosk is currently in use in the successful New York MTA "On The Go" program, which was honored in collaboration with NYC based Control Group with the prestigious Digital Screenmedia Association 2014 Award of Excellence for "Best Travel/Hospitality Self-Service Interactive Kiosk". The rugged user friendly On The Go Travel Station kiosks, was also previously awarded "Outstanding Project of the Year for Advanced Traveler Information Systems" by Intelligent Transportation Society of New York (ITS-NY) in 2012.
Control Group, a technology and design company focused on creating innovative experiences in transit and other public spaces, will also be featured in Comark's exhibition at the APTA Expo. On display will be their digital information solution they developed for the New York City MTA using Comark kiosks. Their platform simplifies wayfinding and communication for riders and provides a framework for digital advertising revenue for transit agencies. Together with Comark, Control Group's full solution helps modernize transit infrastructure by creating an extensible digital platform for innovation.
The rugged TK470, used in the New York City MTA solution, is specifically designed for the harsh public transportation environment which includes installation in unmonitored public areas, brake dust, high temperatures and heavy 24/7 use. There are currently over 100 kiosks installed and in use in the New York City subway system including Grand Central Station, many directly on train platforms. Key features include a brilliant 47" multi-touch and gesture touch screen, rugged stainless steel construction, built in wide temperature computer, health monitoring, and vandalism detection. The kiosks are designed for ease of installation and service.
The new MK470 outdoor kiosk is specifically designed to be deployed in areas such as parking lots, malls, or entrances to transit stations where direct sunlight, rain or snow are considerations. The MK470 is sealed against the elements and uses a high bright display to provide readability in daylight or sunlight conditions. It includes a unique environmental thermal management system which eliminates the need for expensive and inefficient air conditioning systems.
About Comark
Comark designs and manufactures high performance and ruggedized kiosk, computer and display solutions for mission critical applications for self service as well as building automation, industrial automation, military and marine applications. The self-service division designs and manufactures a variety of standard and customized kiosk and digital signage solutions for transit, retail and self-service applications. Many of the same design and manufacturing techniques from the military solutions are used in the kiosk solutions to provide long term reliable service. Comark is driven by more than 38 years of innovation and experience with over 80,000 systems fielded.