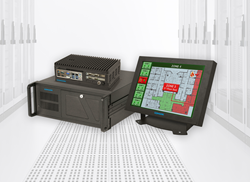 Medfield, MA (PRWEB) June 04, 2014
Comark, a designer and manufacturer of high performance computer and display solutions, will be unveiling its new 4th generation processor line of computers at the 2014 National Fire Protection Association Expo, at the Mandalay Bay Convention Center, Las Vegas, NV, June 9-12, 2014. Products to be featured at the show include the i5/i7 8580 rackmount computer, i5/i7 EnduraNodeTM compact computer, i5/i7 EnduraNode FXTM compact computer, 10" class Power Over Ethernet smart display, 22" i5/i7 building alarm monitor and the Critical TouchTM 22" i5/i7 all-in-one computer.
About Comark
Comark designs and manufactures UL 864 9th Edition / ULC-S527-11 / UL 2572, long-life computers and displays for the life safety, mass notification and healthcare marketplace. Comark specialized in high reliability, high availability solutions for mission critical applications.