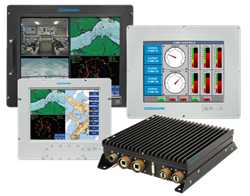 Medfield, MA (PRWEB) March 27, 2014
Comark, a leading provider of high performance, rugged computer and display solutions, will be exhibiting at the Navy Leagues Sea-Air-Space Exposition on April-7-9, 2014 at the Gaylord National Resort, National Harbor, MD. The Sea-Air-Space Exposition is the largest maritime exposition in the U.S and is an invaluable extension of the Navy League's mission of maritime policy, education, and sea service support. Sea-Air-Space leads the way as "THE" exposition to attend as each year it displays the most current information and technology relevant to maritime policy.
Located in booth # 1130, Comark will be exhibiting computer and display systems that are currently used in several naval programs including Q70 modernization, and DDG 51 machinery control. At Sea-Air-Space, Comark will be showing the new 10.1" Power Over Ethernet (POE) displays. Comark will demonstrate how this technology will be a benefit in military and marine applications. For more information, please visit the website.