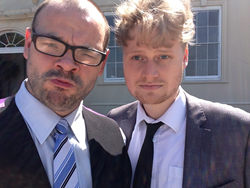 We are the current British Magical Society Close Up Magicians of the Year 2014 as well as being the current Champions of Close Up Magic
(PRWEB) May 30, 2014
Ye Olde Toll House Restaurant on the Walsall Road in Willenhall has a reputation for offering wonderful food and a great atmosphere. As well as having an exquisite menu, The Toll House also offers an elegant and unique environment for special events such as Corporate Hospitality, Wedding Parties and Family Events.
Slightly Unusual are considered among the top illusion acts in the UK and have won numerous awards including being voted officially the most loved entertainers in the UK 2014. They work mainly with event planners and event organisers and specialise in the corporate events sector.
As well as illusion shows Slightly Unusual also perform close up magic. "We are the current British Magical Society Close Up Magicians of the Year 2014 as well as being the current Champions of Close Up Magic," says Craig Petty Marketing Director at Slightly Unusual. "Our team have performed close up magic on TV numerous times as well as consulting with The BBC and German TV. To say we are accomplished in this field is an understatement," he continues.
When it comes to working in restaurants not many magicians have as much experience as Slightly Unusual. "Our team have worked with Frankie & Benny's, Nandos and TGI Fridays. We are also nominated suppliers with Orchid, Greene King, Spirit Group and The Restaurant Group," says Russell Leeds, Managing Director at Slightly Unusual. "We are looking forward to giving the residents of Walsall and Wolverhampton a chance to not only experience award winning magic right in front of their eyes but to do so while having a first class meal. Slightly Unusual teaming up with The Toll House is the perfect match," continues Russell.
Slightly Unusual have announced everything will kick off on the 6th June 2014 and then they will be appearing weekly thereafter. So don't delay book a table today. For more information about this press release please contact Marketing Director at Slightly Unusual Ltd.
Craig Petty
07947123967