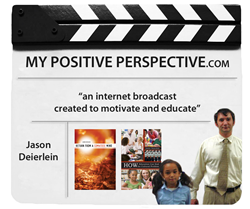 It is important we remember people's lives that used to make us laugh and stay positive.
Charleston, SC (PRWEB) July 15, 2014
On July 14, 2014, My Positive Perspective host Jason Deierlein was joined by Charleston musician Ben Fagan on an episode dedicated to remembering the life of Rodney Dangerfield. Deierlein began the episode saying, "Something My Positive Perspective has started doing is episodes on other lives. Earlier, an episode was shot honoring the life of Nelson Mandela. In this episode, we remember a great actor and comedian, Rodney Dangerfield." Deierlein then turns to Fagan and asks, "What's your overall impression of Dangerfield's work?" Fagan grins and says, "He's just a funny man, and we need that in our lives especially when we are all trying to stay happy and positive. This can only be accomplished if we have people who can always make us laugh."
Deierlein then says, "When I was starting my career as an entertainer I went to a speaking academy. One of the speakers interviewed Rodney Dangerfield and was surprised when he told him that despite all of his success he really was not happy. Dangerfield said he did not make enough time for his family and now was lonely without them."
Deierlein then says to Fagan, "I think that is a good lesson to us and all those in the entertainment industry." Fagan shakes his head and says, "You can't lose sight of the foundation of it all even when things get crazy. When all else fails, your family is always going to have your back. It is important to never forget that."
My Positive Perspective is a media outlet believing that improvement in our community will be best achieved by focusing on the good things happening in our world today. Having survived a near fatal car accident as a youth, a shift of perception forced one to have a mentality of always concentrating on the brighter sides of things. This was true, and in my book, Return From a Comatose Mind, this belief was put to the test. Appreciation for life was the biggest thing one took away from my brush with death, and it is because of that gives me such a huge desire to be helpful to many. My Positive Perspective is a way of overcoming challenges through positive thinking.