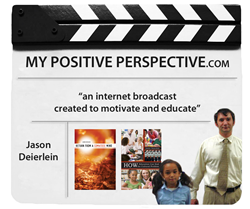 Charleston, SC (PRWEB) April 29, 2014
On April 28, 2014, My Positive Perspective host Jason Deierlein was joined with comedian Brian Shirley for an episode. The episode was intended to bring attention to all the work and effort it takes to be a comedian.
Deierlein begins the episode by saying, "I know some time has passed since you have been on my talk show, what are some new things that you have been working on?" Shirley then says, "Well I am still working on what we talked about last time with the gate keeper thing, and as a result of that I have two new web series things. The first one, you have been in some, the behind the scenes at Kinetic Hifi."
Deierlein then says, "Yes, I even get to tell people how I book my guests for my radio show." Shirley then says, "The things you don't get to hear on air are what we discuss. What goes on before and after our radio shows." Shirley then adds, "My second show is called the BTS radio show on the road actually follows me as a touring comedian."
Deierlein then asks Shirley to discuss his most recent comedy trip. Shirley says, "Recently I performed at some shows in Naples, Florida. There were four shows I participated in at this marina town. Fantastic crowds there, it is taxing to perform in front of so many different crowds, but that is part of the job."
My Positive Perspective is a media outlet believing that improvement in our community will be best achieved by focusing on the good things happening in our world today. Having survived a near fatal car accident as a youth, a shift of perception forced one to have a mentality of always concentrating on the brighter sides of things. This was true, and in my book, Return From a Comatose Mind, this belief was put to the test. Appreciation for life was the biggest thing one took away from my brush with death, and it is because of that gives me such a huge desire to be helpful to many. My Positive Perspective is a way of overcoming challenges through positive thinking.