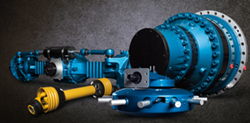 Our reputation as a leader in off-highway power transmission, axle, and drive line systems provides Comer and their customers with the highest level of product support in the industry
Mentor, Ohio (PRWEB) October 21, 2014
Ohio-based Great Lakes Power Products, Inc. (http://www.GLPower.com), is honored to announce that the company has been selected by Comer Industries to become an authorized service center in North America.
Comer Industries, headquartered in Reggiolo, Italy, is a global leader in the design and production of advanced engineering systems and mechatronic solutions for power transmissions, supplied to major manufacturers of agricultural machinery, construction equipment, industrial and renewable energy applications worldwide.
"Our reputation as a leader in off-highway power transmission, axle, and drive line systems provides Comer and their customers with the highest level of product support in the industry," commented Rick Pennza, President of Great Lakes Power.
"We look forward to engaging our entire organization in helping Comer develop a nationwide service and product support network. This opportunity drives to the heart of our core competencies," said Dave Allen, Great Lakes Power's Vice President and Director of Service Operations.
About The Great Lakes Power Group of Companies
The Great Lakes Power group of companies represents leading global off-highway power transmission, drive train and other related industrial component manufacturers such as Twin Disc, Dana Spicer, Clark-Hurth, Funk Manufacturing, Durst, Cotta Transmission, TDI, Axletech, Carrarro, Wichita Clutch, Kongsberg Automotive, Interlube, Donaldson, Racor and other leading off-highway power transmission equipment and parts manufacturers. The Company's success lies in its ability to bring together the strengths of each organization to competently and professionally solve customer's power transmission and drive train application problems. Great Lakes Power adds value for it's customers by providing the best power transmission and drive train products, parts and services available in the industry.