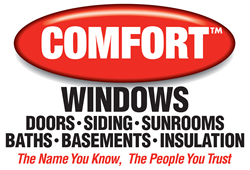 "Norman blinds and shades are simply the best in the business. Now more than ever, Comfort Windows is Central New York's one-stop shop for home remodeling." - Fritz Gentile, General Manager
Syracuse, NY (PRWEB) June 10, 2015
Comfort Windows is Upstate New York's #1 family-owned and -operated home remodeling company. Well-known as a long-time local manufacturer of windows and doors, the company has just added two exciting new product lines to its range of home remodeling products. Now, top-ranked Norman blinds and shades are available at all five Comfort Windows showrooms in Syracuse, Rochester, Albany, Buffalo and Ithaca.
Norman blinds and shades are rated #1 for their exceptional handcrafted workmanship and the industry's tightest closures. Their flat, snugly fit slats are more durable, have fewer gaps and are better at keeping light out than products from other leading brands. Both blinds and shades employ Norman's exclusive safety cord release device, as well as other patented award-winning features, including SmartPrivacy™ and Insta-Lock™, which helps make them safer products for children and pets. All five Comfort Windows showrooms now stock Norman's Performance Faux Wood™ and Normandy® premium wood blinds. They also carry Norman's Portrait™ honeycomb shades, Centerpiece™ Roman shades, as well as Soluna™ roller shades.
Fritz Gentile, General Manager at Comfort Windows, is excited about the new Norman product lines. He feels that Norman window treatments synergize perfectly with Comfort Windows' inventory of professionally installed remodeling solutions for baths, decks and more.
"At Comfort Windows, we've built our reputation on superior workmanship and products," said Gentile. "Norman blinds and shades are simply the best in the business. Now more than ever, Comfort Windows is Central New York's one-stop shop for home remodeling."
For more information about their new product lines, Comfort Windows invites customers to visit their website at http://www.comfortwindows.com/; call (315) 457-0022; or visit the Syracuse showroom at 3624 John Glenn Blvd., Syracuse, NY 13209. More information about Norman blinds and shades can be found by visiting http://www.normanshutters.com.
With over 35 years of expertise in windows and doors, Comfort Windows has won four BBB Torch Awards, as well as Angie's List's 2014 Super Service Award. The company has five public showrooms in Syracuse, Rochester, Albany, Buffalo and Ithaca NY. Comfort Windows never subcontracts, and also operates its own factory in Liverpool, NY.