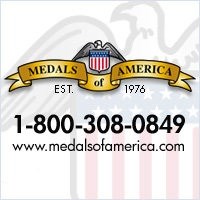 Houston, TX (PRWEB) August 16, 2013
Veterans will be cool and comfortable in this great looking shirt from Medals of America. The addition of custom embroidered Propper ICE Polos give customers both comfort and style, backed by Medals of America's lifetime guarantee. Easily customized online with hundreds of design choices, these are the ideal shirt for any veteran. Embroidery selections include choices of branch logos, badges, ribbon bars, insignia and much more that are all embroidered at Medals of America's location. These shirts ranks five stars among customers and even come with an option for personalized text on the chest if desired making the garment a popular one-of-a-kind.
Medals of America's specialty items with custom embroidery provide limitless options, making them the most unique military merchandise supplier in the nation. Their longstanding ability to serve military personnel and their families goes back to over thirty-seven years ago.
About Medals of America
Medals of America is the premier source for military dog tags, medals, badges, military ribbons, patches, rank, rates and insignia, as well as custom embroidered clothing. We're also proud to offer our exclusive rack builder, military medals builder and custom display case builder.
Veteran owned and operated since 1976, our mission is simple - we want every veteran and service person to display the medals our grateful nation awarded them. Anything we can do to have all the great Americans who served their country in the military forces display their award will enrich future generations by these symbols of Duty, Honor and Country.
Medals of America
114 Southchase Boulevard
Fountain Inn, SC 29644
800-308-0849