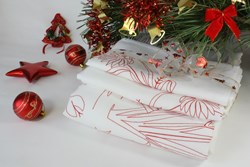 Switching to flax linen bedding brings exceptional sleeping experience and a relief for common skin problems.
Frankfurt, Germany (PRWEB) November 19, 2013
ComfyBedLinen announces its high quality embroidered bedding manufactured from natural flax linen fabric.
Switching to flax linen bedding brings exceptional sleeping experience and a relief for common skin problems. ComfyBedLinen now provides a one-stop online resource that makes its skin-friendly pure linen bedding available globally.
"ComfyBedLinen's innovative and modern bedding products are designed and manufactured with solely one goal in mind – addressing common sleep and health issues with consumers using conventional bed sheets", stated Anastasia Bezginova, founder and creative director of ComfyBedLinen.
Hand-made from European 100% linen fabric certified by Oeko-Tex Standard 100, ComfyBedLinen's embroidered bed linen provides a massaging body effect thus relaxing the cardio-vascular, nervous and muscular systems. It helps to reduce fever, inflammatory conditions and stimulate the blood flow.
The flax fabric absorbs extra moisture much more efficiently than any other natural fabric. This prevents microbial development and bacterial growth. Learn more about 100% Natural Linen Fabric qualities.
ComfyBedLinen is the first German manufacturer to create an outstanding embroidered bed linen with ornaments based on ancient needle works, e.g. from 1745, preserved in museums and collections.
Attention to every detail and excellent quality of work, high standards for testing and quality of certified raw materials – fabric, threads, bands, elastic – ensure that bed linen lasts long and can be passed on to the next generation. Find out more details about ComfyBedLinen product quality.
"I used to get out of the bed in the morning all sweaty and grumpy after another sleepless night. The switch from cotton to pure linen sheets improved my quality of life significantly. I love the feeling of waking up fresh and rested after sleeping on ComfyBedLinen sheets. And the embroidery is absolutely stunning", said Wiebke Grueber, a ComfyBedLinen's customer from Germany who used to suffer from sleeping disorder.
ComfyBedLinen's secure online store with affordable prices of exclusive linen bedding, with simple one-step checkout and free worldwide delivery makes natural linen bedding now available to homes around the globe.
About ComfyBedLinen
ComfyBedLinen, one of Germany's leading manufacturers of embroidered flax linen bedding, is dedicated to revive and bring back the old tradition of beautiful embroidery on natural pure linen bedding, the healthiest bed linen ever known and used for centuries.
ComfyBedLinen is proud to offer exclusive skin-friendly products manufactured at highest German standards for health-conscious consumers globally.