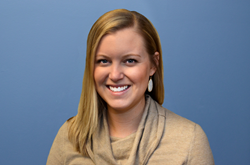 It's quite an opportunity to be a part of a team with such talented people, and I know we're going to do even more exceptional work in 2014.
Charlotte, NC (PRWEB) January 27, 2014
Elite digital marketing agency Command Partners recently welcomed Alex Stegall to the team as its Digital Marketing Strategist. Stegall will provide support for existing clients, and she will also play a key role in the premier digital agency's expansion efforts for public relations and social media services.
Stegall graduated from the University of North Carolina at Chapel Hill in 2013 with a degree in public relations. Her fresh perspective will be a cutting-edge resource for the company's upcoming public relations initiatives.
"I hope to bring unique and truly innovative ideas to the table for our clients," Alex said. "It's quite an opportunity to be a part of a team with such talented people, and I know we're going to do even more exceptional work in 2014."
Stegall brings a rich background in digital content and internet marketing tactics—her experience spans technology, consumer products, and entertainment. During her time at CBS Radio Charlotte, she obtained a great deal of her experience working as a digital content producer. Stegall later managed digital marketing campaigns targeted at college campuses for large clothing retailer American Eagle Outfitters. She has worked on several nonprofit projects, as well as consulted for various small businesses throughout the last couple of years.
"We're excited to have Stegall join our growing team," said Roy Morejon, the President at Command Partners. "We see unlimited potential in her work, and we know it will bring success for both new and existing clients. She'll hit the ground running with her smart ideas and unique approach."
The agency ended 2013 with record numbers, seeing over 100% growth in revenue as demand continues to surge for the agencies startup marketing services. Poised for significant growth in 2014, Command Partners is looking to the future with success on the brain. The company has done over $3 million in Kickstarter business in 2013 and has emerged as one of the top Drupal web development shops in Charlotte. It's no surprise the team is continuing to take the lead online.
Command Partners is confident that clients will grow and flourish with the help of Stegall's expertise. She is bright and committed to making long-term success a reality with each campaign she manages.
ABOUT COMMAND PARTNERS
Command Partners works with innovative clients around the globe and focuses on results-driven marketing strategies for driving online visibility and lead generation through social media marketing, search engine optimization, public relations, and strategic advisory services for startups. To learn more about the company's digital marketing services, call 704-910-5727 or visit http://www.commandpartners.com. Like them on Facebook or follow them on Twitter @CommandPartners.