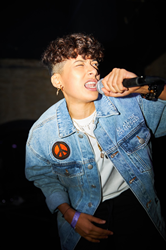 "In a male-dominated industry, it's always great seeing women succeed. Here at Cinq, we have some amazingly talented artists and employees. It's an honor to be surrounded with like-minded women!" Diana Schweinbeck | Director of Marketing at Cinq Music
LOS ANGELES (PRWEB) March 07, 2023
Every year, on March 8, we commemorate International Women's Day, and this year we mark the occasion by commemorating the amazing women represented by the groundbreaking partnership between Cinq Music and Rancho Humilde, whose already phenomenal popularity only continues to soar higher.
Remarkably talented rising stars in their own right, Ivonne Galáz, Janine, Tania Dominguez, and Poe Leos have each made their own undeniable and influential mark on today's Latin music scene and are set to perform as part of Cinq Music and mitú's official SXSW 2023 showcase "Rumba", which will highlight a new wave of Mexican music.
"Women within the music industry are key figures. Having a team comprising 80% women tells us about the quality of work, the commitment, the talent and the virtuosity that they bring to the table. Many times, this industry isn't easy for them.
On the distribution side, it's nice to take extra actions when a release is on the way. This is why artists like Ivonne Galaz or Tania Dominguez have grown rapidly. Creativity and dedication to their projects is essential. We have Poe, an artist committed to her project, and Janine, an artist committed to her roots". Hugo Moreno, Marketing Leader Latam
Ivonne Galáz was the first female artist to be signed to Rancho Humilde's innovative roster, and she has been on the fast track to global fame ever since releasing her hit "Golpes De La Vida," the first song she ever wrote, with the label's marquee artist Natanael Cano in 2019. Quickly establishing herself as an unstoppable force as both an artist and songwriter, her extraordinary inner strength, combined with her divine natural talent, has led her to become one of the most brilliant and respected new figures in the male-dominated Mexican urban music scene today.
Signed to Rancho Humilde Records, rising sensation Janine has been shaking up regional Mexican music with her original sound ever since her arrival. First landing in the public eye with her participation on Season 2 of Telemundo's "La Voz," where she joined Team Wisin, Janine seamlessly fuses the traditional and the contemporary, and her artistic versatility and riveting vocals have captivated listeners throughout Latin America, the United States, and beyond.
At 23 years old, Rancho Humilde's Tania Domínguez has turned the Mexican urban music genre on its head by introducing intoxicating elements of Lo-Fi into the mix. Enlisting in the U.S. army after graduating from college, her shift into a music career has already proven to be fruitful, as her emotion-fueled compositions, blended with her sweet and romantic voice, have led her to become one of the most exciting new artists in Latin music today.
Signed to Artistry Records, 22-year-old singer/songwriter Poe Leos has begun constructing an impressive catalog that features songs penned in both English and Spanish and that is defined by infectious melodies and catchy hooks. Her songs have been synced in various TV shows such as HBO's "Insecure," and in addition to cultivating a remarkable career as an artist in her own right, Poe has also co-written hits for other talented Latin artists including Ally Brooke, Baby Goth, and Jona Camacho, among many others.
Cinq Music and mitú's official SXSW showcase will take place on March 16 at The Venue.