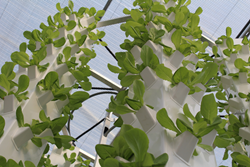 New Holland, PA (PRWEB) April 01, 2016
Walking into the new commercial aeroponic greenhouse at Garden Spot Village takes one into the future where growing fresh food year-round will be vertical, soilless, and fast, but this is not a futuristic idea. The aeroponic vertical growing system is already growing green with fresh vegetables soon-to-be heading to the restaurant and the plates of residents in this Pennsylvania retirement village.
What is Aeroponics?
Aeroponic growing takes soil out of the growing process and recycles nutrient-rich water many times over each hour to grow produce in a shorter cycle than traditional growing. The AERO Development Corp system takes vertical growing and soilless growing and combines it into one concept.
The Garden Spot Village commercial aeroponic greenhouse features twenty-five bright white AERO Circular Pods with 600 to 1200 aeroponic grow spots each. Hundreds of small grow cups affixed to the columns are used to grow lettuce, parsley, peppers, zucchini, kale, eggplant, swiss chard, and much more. Also installed in the greenhouse are a couple of AERO's brand new Vine Gardens which are used to grow tomatoes, cucumbers, and other vining plants. The new 4,800 square foot commercial aeroponic greenhouse contracted and laid out by AERO Development Corp of Gap, PA is capable of growing over 18,000 plants.
History of the Aeroponic Greenhouse Project
The vision for a commercial aeroponic greenhouse at Garden Spot Village began in 2011 when representatives from the retirement community toured the Sunset View Growers greenhouse owned by Sam A. Stoltzfus in Gap, PA. "We were chomping at the bit" said Steve Lindsey, CEO of Garden Spot Village. They loved what they saw and were eager to bring it to their retirement community known worldwide as one of the most active and innovative retirement communities.
In true Lancaster County tradition this project patiently waited for AERO Development Corp to perfect the design. AERO invested hundreds of hours in researching and developing the perfect aeroponic system that virtually eliminates algae and avoids many other problems associated with most water-based, soilless growing systems, and their growing systems are now ready to be distributed throughout the market.
Quality Pesticide-Free Food
The food is produced using only natural products and without pesticides and insecticides. This aeroponic growing system uses the kind of organic methods that are extremely effective in overcoming the insect and disease challenges that can affect any growing environment.
The aeroponic greenhouse was carefully chosen and contracted by AERO Development Corp to ensure that there is plenty of ventilation and fresh air throughout the year. The sides of the greenhouse can be lowered to allow fresh air into the greenhouse, and the roof opens to allow any excess humidity in the air to escape through the top of the structure. All of these elements are combined to create a clean and healthy environment for fresh food to grow.
An Environmentally Friendly Approach to Fresh Food
The aeroponic system developed by Sam and his company requires very little water to run. One Circular Pod consumes around 50 gallons of water per week depending on the size of the plants and the air temperature in the greenhouse. It is one of the most water efficient growing systems available in aeroponics and it could help solve food shortages in places with little rain and the effects of famine.
Not only does it use less water, the water that is used in the Garden Spot aeroponic system is collected from the greenhouse roof and stored in a 1,700 gallon tank next to the commercial greenhouse. It is then pumped through a mineral station and into an automatic filling reservoir at the base of each eight pod unit. Every 6 to 8 minutes, the nutrient-rich water is pumped zone by zone to the top of the pods where it runs down the inside of the vertical columns and waters the plants.
The aeroponic greenhouse uses very little power thanks to four feeding zones that water at intervals. This is significant especially when running a commercial aeroponic greenhouse with solar power as a source in areas where the incoming electrical system has a lower amperage.
What makes AERO Development Corp Pods Unique?
With years of research and design behind the aeroponic systems from AERO Development Corp, they have created a system that is more hands-free and maintenance free than any other system in the world. While many aeroponic systems use nozzles to spray the roots of growing plants, AERO employs a virtually algae-free drip system. This means there will be no clogged nozzles as one might find in other aeroponic systems.
AERO Development also offers a lighting system for growing aeroponically indoors or in low light situations. Their auto-fill option is another added convenience to make aeroponic growing as hands-free as possible.
The Future of Growing Today
AERO Development Corp and Garden Spot Village believe that aeroponics is the wave of the future. With the efficient use of land and water and the benefit of providing fresh local produce, they are excited about taking AERO growing units nationwide and even worldwide.
This week, Frank Fendler, Co-founder of AERO Development, and Steve Lindsey, the CEO of Garden Spot, are flying to California to present their new aeroponic system for other retirement villages to consider.
Watch for a commercial aeroponic system coming to a retirement village near you! For those who cannot wait for the local retirement village to take up the challenge, AERO is also working with private businesses to set up their own aeroponics systems to feed their local communities. For those who love growing their own food on a rooftop, patio, or backyard, AERO Development Corp has patio and rooftop aeroponic growing units that can be shipped anywhere in the USA or Canada.