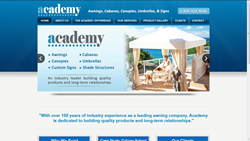 We strongly believe that our products have the power to transform businesses, and tradeshows are the perfect medium for us to share this belief with the people on the front lines.
Los Angeles, CA (PRWEB) February 25, 2014
Academy Inc., a renowned expert in the design and manufacturing of high quality commercial awnings, canopies and cabanas, is kicking off the 2014 tradeshow season by announcing its presence at several upcoming industry shows.
Academy Inc. made its initial 2014 appearance at the Restaurant Facility Management Association (RFMA) Annual Conference in Dallas, Texas. Slated for February 16-18, this down south event was one of the largest gatherings of restaurant facility professionals and vendors in the country. Business and franchise owners flocked to this show to learn about the newest products and services needed to succeed.
Academy Inc. will attend another major conference -- the Professional Retail Store Maintenance Association Conference (PRSM) in Orlando, Florida -- from April 6-8. A plethora of retail facility professionals depend on PRSM to help them achieve success and a competitive advantage through quality programs and resources.
Academy Inc., which holds over a century of industry experience, will have a large presence at the trade show in order to enlighten retailers on the many benefits of investing in an awning or canopy for their property. This includes all-important brand recognition via customized designs and logos; protection from the elements for customers; and of course energy savings by reducing the amount of heat entering the building and thus the amount of air conditioning needed. The latter two points will especially interest property owners near the Texas and Florida areas – talk about a strong sun!
"At Academy Inc. we love having the opportunity to go to trade shows throughout the country," said James Richman, CEO of Academy Inc. "We strongly believe that our products have the power to transform businesses, and tradeshows are the perfect medium for us to share this belief with the people on the front lines. Whether someone owns a restaurant franchise, a small café or a medium sized storefront, we are eager to help them take their business to the next level with the perfect awning or canopy."
In between these two major trade shows, Academy Inc. will attend several other shows around the country, including:

BITAC Luxury (March 9-11) – Dana Point, California
The Buyer Interactive Trade Alliance and Conference (BITAC) is produced by Hotel Interactive, Inc., the ultimate web portal for the savvy hospitality professional since 1998. BITAC provides an unparalleled business building forum for prominent executives in the hospitality industry to foster long-term relationships. This highly acclaimed event has earned a reputation for bringing together the top tier of both purchasing decision makers and suppliers. Academy Inc. will be on hand to showcase its luxurious cabanas, towel valets and more.
RestaurantPoint (March 16-19) – San Antonio, Texas
RestaurantPoint is produced by the Connecting Point Marketing Group, which was founded to offer a new way for business leaders to access innovations, peer and industry insight and inspire new relationships. RestaurantPoint brings together chain restaurant and supplier executives to explore business opportunities and forge relationships. Through careful pre-event planning, a specific agenda is designed for each participant or participating company to maximize their exposure in a casual and fun environment. Academy Inc. will be there featuring its world class awnings and canopies.
BDwest (March 20-21) – San Diego, California
Presented by Boutique Design magazine, BDwest was created in 2013 to serve a growing demand for experiential design and a more specialized and personalized trade fair experience in hospitality – one that inspires, surprises and enlightens. BDwest connects designers, architects, purchasing agents, and hospitality owners, developers and operators via focused and engaging social events, one-to-one buyer/supplier meetings and an atmosphere that invites conversation and collaboration. Academy Inc. will display its gorgeous cabanas at this event.
HI Connect Design (April 2-4) – Nashville, Tennessee
HI Connect Design is presented by Hotel Interactive, the hotel industry's most insightful provider of original and edgy editorial content. HI Connect Design is for hoteliers, purchasing executives, owners, developers, GMs, designers, architects and more. It immerses attendees inside real "vignette" environments, inspiring conversation and non-stop networking. Don't miss Academy Inc.'s cabanas!
With appearances scheduled at so many shows over the next couple of months, Academy hopes to see you at one – or more!
About Academy Inc.
Academy Inc. has been an expert in designing and manufacturing custom awnings canopies and signage for more than a century. Stationed in Los Angeles, CA, Academy has achieved global recognition and an undisputed reputation as one of the best companies in the business.
Contact Information
Academy Inc.
2510 Malt Avenue
Los Angeles, CA 90050
Phone: 800-422-9646
Fax: (323)-721-2824
Website: http://www.academyinc.com