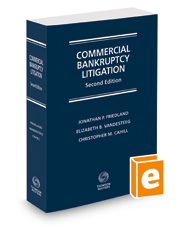 CHICAGO, IL (PRWEB) May 02, 2016
DailyDAC, LLC d/b/a Financial Poise™ is proud to announce that the 2016 edition of Commercial Bankruptcy Litigation, whose lead author is Financial Poise™ founder and chairman, Jonathan Friedland, was recently released.
This 1700+ treatise designed for use of litigators who do not specialize in bankruptcy work, and published by Thomson/Reuters/West, is in its seventh edition under Friedland's leadership.
Friedland, a partner with Sugar Felsenthal Grais & Hammer LLP, leads the overall editing and strategic direction of the treatise with his law partner, Elizabeth (Lisa) Vandesteeg and DailyDAC, LLC CEO Christopher Cahill.
Contributors include partners from such law firms as Adams & Reese, Arnstein & Lehr, Blank Rome, Bryan Cave, Cole Schotz, Culhane Meadows, Hahn Loeser, Jones Day, Lowis & Gellen, Moses & Singer, Skadden, Stinson Leonard, Ulmer & Berne, Shaw Fishman, Venable, and Wilmer Cutler.
Friedland is also the lead author of Strategic Alternatives for and against Distressed Businesses, also published by West. Both books are revised annually and both are among West's best-selling titles over the past several years.
ABOUT FINANCIAL POISE™:
Financial Poise provides unbiased news, continuing education, and intelligence to private business owners, executives, investors, and their trusted advisors. For more information contact Emily Goldin at egoldin(at)financialpoise(dot)com or 312-469-0135.