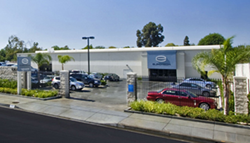 Said Ron Vandermooren, owner and CEO, 'we take all the time that is needed to understand your business, what you want to accomplish, and how your service or manufacturing facility functions at optimal levels.'
(PRWEB) June 04, 2014
RVM Construction, an Orange County CA, General Construction firm announces today the expansion of their commercial construction division highlighting their expertise in manufacturing processes facilities design. RVM Construction is dedicated to increasing the efficiency and production of the manufacturers they serve without downtime and the resulting loss of revenue. RVM Construction offers commercial construction and general contracting services for all kinds of manufacturers. RVM's proven process makes the most out of manufacturing facilities by quality enhancements that not only bring properties up to code, but provide added value and profits.
Said Ron Vandermooren, owner and CEO, "we take all the time that is needed to understand your business, what you want to accomplish, and how your service or manufacturing facility functions at optimal levels. We work with all of the departments affected to insure a smooth build with minimal down time for your business. This value added project management is a unique RVM service. Whether you are starting from scratch, moving, or expanding your manufacturing business, you want a production facility that streamlines workflow processes and increases your output."
A recent client of RVM Construction, Dean Baltzell, Chairman of MeriCal Inc., A vitamin manufacturer in Orange County, CA, had this to say regarding the RVM construction project where four separate buildings were moved and consolidated into one larger plant. "Thanks in great part to RVM Construction; MeriCal was able to post record sales, an increase of almost 15%. The fact that this was accomplished during our construction process makes it even more impressive and highlights the professional way that RVM handled our remodel. We would not have been able to achieve our sales successes without their dedication to our bottom line."
About RVM Construction: RVM Construction is a family-owned and operated business specializing in the construction of commercial tenant improvements and manufacturing facilities. RVM Construction in Orange County provides a complete range of all types of construction, general contracting, and commercial construction. Before work begins each project is thoroughly analyzed with the goal to remain on budget and on schedule. RVM proactively identifies potential problems and seeks out the most effective cost-control solutions to fit project requirements.
Clients choose RVM Construction because they value honesty, integrity, and a consistent quality of workmanship. Their proven process provides highly predictable outcomes. The RVM promise is to deliver the finest quality construction within your project budget. RVM employs the best practices available in the engineering and construction industry today.
Their emphasis on quality construction has made RVM one of the most respected construction firms in Orange County.
For more information on RVM construction and a gallery of recent commercial projects visit http://www.rvmconstruction.com.
For more information contact:
Bonnie Gullickson
714-632-9420