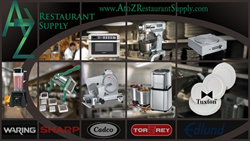 (PRWEB) April 30, 2015
World-class online retailer AtoZRestaurantSupply.com has expanded their already vast selection of products with a whirlwind of new commercial restaurant equipment. AtoZ Restaurant Supply has expanded its commercial Fryers, commercial mixers, and commercial slicers which are among the many categories that have seen hundreds of products added. With these new additions to A to Z Restaurant Supply's selection, they are continuing to provide all the necessary products required for arestaurant.
A to Z Restaurant Supply has added several types of commercial deep fryers, electric and gas powered. Every restaurant kitchen needs a commercial deep fryer, and with A to Z Restaurant Supply's selection, every kitchen can be accommodated. Commercial fryers are available with different sizes, well numbers, and basket numbers, and with the heavy duty stainless steel design. The diverse variety of deep fryers makes shopping for specific needs as easy as can be.
Commercial mixers are also needed for restaurant kitchens as fryers are. With the new variety of commercial mixers such as dough mixers, planetary mixers, meat mixers and spiral mixers, A to Z Restaurant Supply has every need covered. Not only are these heavy duty mixers available in a plethora of sizes and types, but they also include accessories, attachments, and different speeds. With this kind of selection of commercial stand mixers, truly every restaurant kitchen can suit their needs.
While looking into necessities for any restaurant, be sure not to miss professional commercial slicers. A to Z Restaurant Supply has the widest selection of commercial slicers, including bread slicers, meat slicers, tomato slicers, and mandoline slicers. The slicers are not only perfect for every kitchen, but they are also available in manual operation or electric operation. For restaurants that wish to slice through their competition, commercial slicers from A to Z Restaurant Supply are the prefered choice.
There's no better way to develop and improve a restaurant kitchen than to rejuvenate it with the hundred of products available at AtoZRestaurantSupply.com. All of a restaurants needs can be satisfied A to Z Restaurant Supply: The foremost vendor of commercial deep fryers, mixers, slicers, and everything else for any commercial kitchen. The reliable products make A to Z Restaurant Supply the perfect one-stop shop for old customers and new.