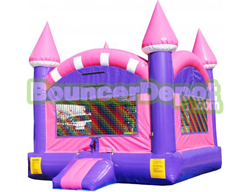 Made in USA Commercial Inflatable Bounce Houses From Bouncer Depot
Sun Valley, CA (PRWEB) January 17, 2016
Bouncer Depot has an all new website that features an easy-to-navigate interface that reflects the bright colors and fun of their product. Bouncer Depot is a direct manufacturer supplying wholesale high quality commercial inflatable bounce houses to party rental companies across the country. Each model is guaranteed by a full three-year warranty and include blowers and all accessories needed for setup. Full financing is available through 3rd party companies, and Bouncer Depot ensures that its clients are completely informed about transportation needs, care, maintenance, repair and all other details needed to operate and care for the units. Commercial inflatable rentals have the potential to generate significant revenue for small local business owners in nearly every community. And for organizations who host regular events such as a church, school, corporation or other group, purchasing an inflatable may in fact make more business sense in the long run than renting one each time.
Bouncer Depot produces a stunning array of designs and styles, including innovative combo models that combine commercial inflatable water slides with moon jump houses. They manufacture amazing inflatable playgrounds, obstacle courses and games like the bungee run that appeal to both children and adults. Designs range from a simple inflatable arch to a twenty-foot high water slide all the way up to a gigantic enclosed inflatable soccer arena nearly 100-feet long. They are also happy to do custom orders for any client looking to expand their creativity and specialization. The most typical commercial bouncers rented/purchased are 9x9, 13x13 and 15x15.
Since it began in the 1960s, the inflatables industry has become a hugely creative endeavor, producing new models and utilizing high-tech polymers. They have almost become a standard addition to children's birthday parties, company picnics and community events. Bouncer Depot offers inflatable jumpers for sale that produce high levels of income, with many inflatables paying for themselves in a matter of months. With the addition of water slides comes an entirely new dimension in fun. Bouncer Depot designs and manufactures all of its products in the United States.
About Bouncer Depot:
Founded over 14 years ago, Bouncer Depot is the leading bounce house and inflatable manufacturer in the United States. Using cutting edge technology, a strong design team and innovative design concepts, Bouncer Depot produces the largest selection of commercial inflatable water slides, bouncers and obstacles available in today's marketplace. Their products are currently bringing fun and joy to people in countries all over the world. Every Bouncer Depot product is designed and manufactured in the United States. For more information about Bouncer Depot, please visit http://www.BouncerDepot.com or call (877) 577-7119.