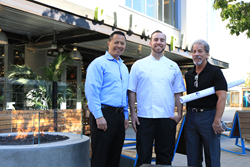 We are excited to be a part of the Chefs' Toys team and help build on their already solid commercial kitchen project teams.
Fountain Valley, CA (PRWEB) January 14, 2016
Chefs' Toys, the leading restaurant equipment and supplies company in southern California, announced today its acquisition of Michael Blackman & Associates. MBA as the company is often referred to in the foodservice industry, has been operating for over 30 years and is known as one of the top restaurant kitchen designers in southern California and nationally as well. With an impressive roster of customers, MBA has received numerous awards and accolades since its founding.
Some of Michael Blackman & Associates past clients include Sizzler, Spago, Johnny Rockets, Pieology, Hyatt, Kansas Star Casino, Lemonade, Urban Plates, the Veggie Grill, Bar Toscana, Fuddruckers, Poquito Mas, Houlihans, Umami Burger, Baja Fresh, Nobu and many more. More customers can be seen at http://www.michaelblackmanandassociates.com.
The Michael Blackman & Associates team of restaurant designers, kitchen consultants and project managers formerly based in Santa Monica, are now based at Chefs' Toys west LA store location taking up office space there. The Chefs' Toys Commercial Kitchen Design Group can be reached via telephone at (310) 656-1010 or by email: consulting(at)chefstoys(dot)com.
"Chefs' Toys has provided commercial kitchen design services for many years. Michael Blackman & Associates has developed an exceptional reputation in the industry," says Steve Dickler President of Chefs' Toys. "With their deep expertise in kitchen and bar design, restaurant interior design, tremendous knowledge and resources for restaurant fixtures, architecture, planning and construction, the MBA team will help take Chefs' Toys to a whole new level."
Chefs' Toys believes the addition of some of the industry's best kitchen design consultants will add more value to new and existing customers. The company plans to leverage MBA's vast network of industry experts including experienced architects, millworkers, booth manufacturers, engineers, and foodservice industry consultants across the country, for example.
"Chefs' Toys has developed a fantastic reputation in the restaurant business for restaurant equipment and smallwares," says Rick Rose, of Chefs' Toys Commercial Kitchen Design Group. "We are excited to be a part of the Chefs' Toys team and help build on their already solid project teams. This will create a new synergy that will help us both affording our customers that one-stop-shop, from planning, to building, and managing a high performance commercial kitchen design project."
About Chefs' Toys
Chefs' Toys, with its start in 1988, is the leader in Restaurant Equipment and commercial kitchen supplies in the southern California marketplace. With over 150 staff and 20 commercial trucks, Chefs' Toys offers 6 consistently designed superstores in southern California, as well a large distribution center. Offering over 9,000 products and supplies, with excellent relationships with the top brands in the restaurant space, and knowledgeable employees including trained chefs, Chefs' Toys is well positioned to continue to provide commercial equipment, professional products, services and supplies to the foodservice industry. Chefs' Toys Orange County locations include Anaheim and Fountain Valley. Its Los Angeles area locations include Torrance, Van Nuys, and West Los Angeles. The newest location is in the Inland Empire in the city of Corona. With its acquisition of Michael Blackman and Associates, Chefs' Toys offers full professional services including design, planning, consulting, and project management services for restaurants, bars, and commercial kitchens. For more information go to ChefsToys.com.
###