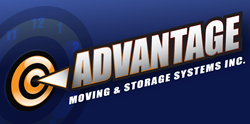 Bronx, NY (PRWEB) July 30, 2014
The summer is upon us and it really is the best time of the year to move. The kids are out of school, the city seems a little more relaxed and moving companies are offering great deals to move in summer months. Beware of those summer specials. They reel customers in with great low prices without ever quoting them and then they're hit with a surprise bill at the end of their move. But with everything that planned for this summer, how do customers find an honest mover that is dependable, reliable and trustworthy?
Advantage Moving has revamped their website once again to make it even easier for the busy New Yorker. Moving is already a huge task and the busy New Yorker needs the quotes fast and concise. Here's a way to do it without any trouble:

Call them via Skype or FaceTime and receive a quote for an entire home or apartment right over the phone.
Receive a fast quote online from their website.
Those who are calling different movers to find the best rate possible can use Advantage Moving's online calculator so that they have an idea of the approximate cost. That way, they will know if a mover is over- or under-bidding for the job.
For those who like the traditional way and want a professional mover to come to their home to give a quote – Advantage Moving can do that too.
Whatever fits customers' schedules the best - online, on the phone, via webcam or in person, here's a moving company that will make it simple for every New Yorker.
About the company:
Advantage Moving & Storage Inc., the premier moving company in New York City, handles all moving jobs professionally from resident moves of studio apartments to commercial moves of large corporations. Their services include local, intrastate, interstate and international moving. Their proven track record as an affordable New York City mover guarantees a seamless, stress-free relocation for even the most complicated of moves.
Advantage Moving and Storage is a dependable local New York mover specializing in hourly and flat-rate moving quotes to meet all moving needs. City to city, state to state, or country to country, they have more than 50 years of experience and will handle all moves professionally and with care. Their rates are highly competitive and estimations will go the extra mile making sure all of their customers know precisely what type of service and pricing to expect at all times.