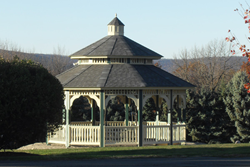 The new gazebo, pergola and pavilion website is only beginning
Lancaster, PA (PRWEB) March 29, 2016
Spring weather is taking people out-of-doors and Lancaster County Backyard of PA is ready to assist homeowners, businesses and municipalities create enjoyable outdoor spaces for all to enjoy. With the launch of a new website featuring outdoor gazebos, backyard pergolas and backyard pavilions, this second generation company is expanding their commercial pavilions, gazebos and pergola reach in 2016.
"Enjoy your backyard like never before" seems to be the new line around Lancaster County Backyard as their marketing program expands. And no doubt, they are creating lovely backyard spaces for homeowners in PA, NJ, NY, DE and MD. But they are reaching even further in expanding their line of commercial outdoor pavilions, outdoor gazebos and customer pergolas for sale in their delivery area.
To aid in this new venture, http://lancastercountybackyard.net contracted with E-Impact Marketing of Lancaster County, PA to build an all new website featuring outdoor pavilions, outdoor gazebos and backyard pergolas. "The new gazebo, pergola and pavilion website is only beginning," says the marketing firm which specializes in working with clients on a monthly marketing plan. "The goal is growth over the next year so the Lancaster County Backyards can grow their retail gazebo, pergola and pavilion market substantially." That retail marketing will certainly be to homeowners across their delivery area, but commercial pavilion, gazebo and pergola applications will become a growing part of their market share.
A local municipality may erect a commercial pavilion in park spaces for the public to enjoy. Backyard Gazebos can also be an addition to public park or a business park for all to enjoy. These structures, which are most common in the backyards of homes across the USA add a great touch to any public space or business yard. Many businesses might add a gazebo for employees to enjoy during a break. A breath of fresh air in the middle of the work day can give employees a much needed boost to keep productivity alive.
Lancaster County Backyard is a sister company of Pequea Storage Sheds based in Kinzers, PA and operates out of the same office space. They are a family owned company with many Amish Gazebo Craftsmen and have been in the outdoor gazebo industry for over three decades. For the past decades, the primary outdoor gazebo, pavilion and backyard pergola sales have been through a dealer network. The addition of a new online marketing plan seeks to grow their business by offering backyard gazebos, commercial pavilions and pergolas direct to customers from their Pennsylvania manufacturing facility.