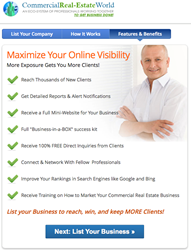 It's not what you know, but who you know! Welcome to commercial real-estate world, where business get's done.
Rockwall,TX (PRWEB) May 20, 2014
Business owners and investors, now may be a good time to borrow money and utilize capital to expand your business or investment portfolio. Loans for business are made with ease using the connections made through http://www.commercialrealestateworld.com.
This new directory for lenders, agents, developers, brokers, and other providers can help business owner expand their company and get connected to industry leaders.
With low interest companies are able to acquire equipment, real estate, etc. and have a more palatable monthly payment. With lower payments, it is easier to generate income that is sufficient to cover the payment and generate profits with your purchase.
Stewart Storms, Vice President, Commercial Lending, states, "During my 15 years in the banking and real estate industry, I have been able to offer solutions to a very diverse client base. I specialize in commercial loans for acquisition of real estate, construction projects, equipment, inventory, and working capital." Commercial business loan options offers aircraft, bridge or short-term loans, construction, franchise loans, investor real estate, large equipment loans, medical building loans, and medical practice loans. Learn more here or by contact phone 1-888-533-3254.
Commercial Real-Estate World Works As a powerful tool for attracting more clients. Providing an ecosystem of successful professionals working together to get business done. If your company is looking for small business loans, call 1-888-533-3254 today.