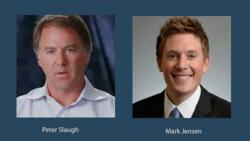 "Volatility" seems to be an understatement – what is going on in the debt markets? Bernanke – last Wednesday decided to broadcast Fed's intention to taper the bond buying program.
San Francisco, CA (PRWEB) July 02, 2013
In this timely 35 minute podcast, Peter Slaugh, Managing Director, and founder of Steelhead Capital gets interviewed by Mark Jensen, Investment Specialist at Newmark Grubb ACRES in Salt Lake City, Utah.
The full podcast is available on SteelheadCapital.com for complimentary download to all visitors.
Mark's questions to Peter include:
1. "Volatility" seems to be an understatement – what is going on in the debt markets? Bernanke – last Wednesday decided to broadcast Fed's intention to taper the bond buying program – which sent the capital markets into a tail-spin.
2. It seemed there was zero lag in the market's reaction – is that accurate?
3. How does this effect pricing across the board?
4. Is this an anomaly, or are rates truly headed up?
5. Specifically – what about multifamily – the so-called "darling" of the investment industry – where are rates today vs. last month?
6. Its times like this that shakes everyone up a bit – do you see buyer terms and behaviors shifting a bit in response to rising rates and volatility? There's been almost 18 mos of low volatility and low interest rates. The questions is whether rates are going higher or if they'll plateau for a bit?
7. Who are the primary players in this space?
8. And how do they compare?
9. Talk about the deals that grabbed some of the lowest historical rates – they should have a competitive advantage not only because of the obvious cash-flow – but what about re-sale?
10. It seemed transaction velocity was well underway in most markets across the country – any thoughts on what we'll see for the second half of the year? Some say it will be a little quieter – but there's an abundance of capital that still wants to deploy – so there will probably see some confusion and quiet this quarter – but those dollars are not going away.
Mark Jensen is a top producing investment broker with 10 years experience in the field. Mark is a member of the national C&W Alliance Capital Markets Team and has closed over $270 million in commercial real estate transactions since 2004. While he has experience and real time activity in all CRE sectors, Mark has sold over 1,414 apartment units in the past five years alone. Continually a top producer for his previous company, Cushman & Wakefield | Commerce, Mark was in the top 5 in the company for the last two years before joining Newmark Grubb ACRES in 2013.
Mr. Slaugh was a founder and principal of Steelhead Capital in 1998 and now serves as Managing Director of this San Francisco-based commercial mortgage banking platform. Prior to founding Steelhead Capital, Mr. Slaugh originated commercial loan transactions for all property types at GMAC Commercial Mortgage. Over the last decade, Mr. Slaugh has originated well in excess of $1 billion in commercial real estate debt/mezz debt and equity transactions. His extensive knowledge of the capital markets significantly enhances the firm's ability to aggressively leverage acquisition and renovation costs in order to maximize investor returns.
About Steelhead Capital:
Since 1998, Steelhead Capital has been a premier provider of commercial loan financing solutions and advisory services for commercial real estate investors. Steelhead Capital brings an extensive network of lending sources, structured finance experience with a focus on acquisitions, and a clear commitment to personalized customer service for investors financing properties in any of the 50 states.
For additional information about Steelhead Capital or to submit a no-obligation commercial loan request, please visit SteelheadCapital.com/application or contact Mr. Peter Slaugh at 1-800-713-9220.