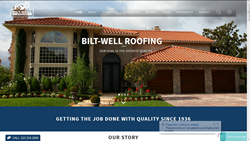 As a top residential roofing repair company and a leading commercial roofing repair company, we have solved thousands of diverse client needs.
Los Angeles, CA (PRWEB) May 29, 2015
Since 1936, Los Angeles-based Bilt-Well Roofing has provided top commercial roof repairing services and commercial roof systems to a wide variety of clients in the southern California region. The company's rich history as leading roofing experts has enabled Bilt-Well to earn the trust of such name brand corporations as Coca-Cola, Disney and Sears. Bilt-Well, however, offers its premium services for smaller residential projects and clients, too. Additionally, counted amongst the top solar companies in Los Angeles, Bilt-Well provides the very best solar panel installation and repair services in the industry today.
A Bilt-Well senior executive explains. "As a top residential roofing repair company and a leading commercial roofing repair company, we have solved thousands of diverse client needs. We understand the complexities of commercial building expansion to, say, accommodate a production facility, as much as we understand that what looks like a simple residential roof leak may indeed be a huge potential problem lurking beneath, which we can stop in its tracks. Our highly experienced, licensed installation and repair team always pay meticulous attention to detail that both provide a roof's truest function and reflect the beauty that reinforces a brand. We resolve to achieve 100% customer satisfaction, confidently meet tight deadlines and always stick to the laborious details that turn a client's vision into a reality."
Bilt-Well Roofing consistently strives to create unique, safe and cost effective solutions to meet complex commercial roofing challenges in Los Angeles. The company staff combines its extensive experience and knowledge to utilize advanced technology when executing robust commercial roofing systems and repairs. Bilt-Well understands the importance of completing a project perfectly. Therefore, they carefully manage all aspects of every project: from design to completion to deliver the ultimate in roofing services.
Bilt-Well is also a leading contender amongst solar companies in Los Angeles. The Bilt-Well team has tapped into the relatively new technology to offer both its commercial and residential clients with a cost-saving method to easily capture and store electrical energy for easy usage. The Bilt-Well team reviews current energy consumption, identifies roof dimensions and offers a free custom price quote with projected energy and cost savings for potential clients.
Whether domestic or commercial property owners are looking for commercial roof repairing services, solar roofing or residential roofing repairs company, Bilt-Well Roofing is simply the best.
About Bilt-Well Roofing
Established in 1936, Bilt-Well Roofing is one of the most reliable companies in the industry that offers expert roofing services to residential and commercial property owners in Los Angeles, Ventura and Orange Counties. The company specializes in all aspects of roofing and also stands as one of the top solar companies Los Angeles.
Contact:
Bilt-Well Roofing
3310 Verdugo Rd
Los Angeles CA 90065
Contracting License #458005
E-Mail: roofinfo@biltwell.com
Website: https://biltwellroofing.com/
# ##