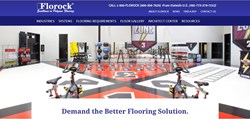 "Visiting this new website is as close as you can get to our concrete floor coatings without actually walking on them." -- David Schmetterer, President
Chicago, IL (PRWEB) January 28, 2014
Since 1952, Florock Polymer Flooring has been pioneering concrete floor coating solutions for facilities all over the world. Its latest development, though, is a little closer to home. With the launch of its new website, Florock has reestablished itself as a definitive authority in its field.
As an innovative voice in the concrete floor coating industry, Florock has perfected the formulas for its variety of coating systems, including commercial floor epoxy, polyurethane coatings and more. The company's new website, which showcases full technical specifications as well as large, dynamic imagery of its products, is designed to give visitors the full Florock experience, online.
The site's structure demonstrates the wide breadth of the company's capabilities—flooring solutions are organized not only by their type, but by their properties and the industries for which they are commonly used. Now, visitors can easily sort through Florock's varied inventory and find the solutions right for them.
"Visiting this new website is as close as you can get to our concrete floor coatings without actually walking on them," said David Schmetterer, President at Florock. "By giving our site's visitors both the technical information and the visuals they're looking for, we can demonstrate the quality that has put us at the forefront of the industry for more than 60 years."
In addition to visual and technical guides for Florock's polyurethane coatings, commercial floor epoxy and other flooring systems, the new Florock website offers a variety of new resources like training videos for installation, case studies, color charts and more.
"The lasting quality of our concrete floor coatings has helped define our business for decades," said Schmetterer. "Now, we can demonstrate that quality to people before they ever set foot on one of our floors."
About Florock Polymer Flooring
Manufactured by Crawford Laboratories, Inc., Florock Polymer Flooring is a leader in commercial, institutional and industrial concrete floor coatings for facilities worldwide. With an expansive network of flooring professionals, regional representatives and approved installers, Florock is able to provide its custom flooring solutions for a wide variety of businesses and institutions. To learn more about Florock's products and services, visit http://www.florock.net.