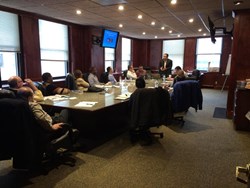 Now our graduates will enjoy the benefits of a $5,000 to $8,000 dollar marketing package included in our training fee.
Albany, NY (PRWEB) February 03, 2014
Commercial Capital Training Group announced this month that it is now including a year's worth of targeted marketing to all students who attend their 7 day intensive commercial finance training program. This program teaches and educates current or aspiring entrepreneurs to successfully enter the lucrative world of commercial finance. Upon completing the program graduates are in the business of providing capital for virtually any type of business or commercial real estate financing need. Armed with over 45 different commercial finance products, graduates can finance client's that the banks turn down but also offer more competitive solutions to the few clients banks approve.
The years worth of marketing will be powered by Commercial Capital Marketing Group, a division of the specialized finance marketing agency, The Finance Marketing Group who does strategic marketing for banks and private lenders. Graduates of the program will have a team of top finance marketing professionals working for their new commercial finance business. Kris Roglieri, founder of Commercial Capital Training Group and The Finance Marketing Group along with several other commercial lending companies stated, "Now our graduates will enjoy the benefits of a $5,000 to $8,000 dollar marketing package that will be included in cost of our training." Roglieri went on to say, "We not only teach innovative marketing techniques in our training but now we actually implement them and do it for our graduates." The Finance Marketing Group consists of over 30 finance marketing experts that provide services to banks and lenders including, Search Engine Optimization, Email Marketing, Direct Mail, Social Media Management, Video Creation, Content Marketing, Strategic Brand Strategy, Google Analytics Analysis, Adwords Optimization, Website Creation, and Public Relations.
Commercial Capital Training Group has been the industry's premier training organization which has been featured in Forbes, Entrepreneur Magazine, Fox Business News, Bloomberg and many other news organizations.
For more information please visit our website at http://www.CommercialCapitalTraining.com or call 518-694-3047.