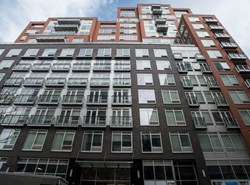 "We were determined to purchase this property in spite of the timing and interest rate challenges", said Dayan from his 7th Avenue office. "We had confidence that Ackerman would deliver timely and at the best possible terms."
Long Island City, NY (PRWEB) August 01, 2013
Eastern Union Funding negotiated a $52 million loan for the acquisition of the Crescent Club, a 130 unit multifamily property located at 41-17 Crescent Street in Long Island City, New York. The transaction was originated and negotiated by Eastern Union managing director Shaya Ackerman.
Although there were many bidders for the property, the sellers chose to do business with Charles Dayan of Bonjour Capital due to his sterling reputation and his ability to close a transaction this size. Dayan acknowledged the challenge of acquiring the sought-after Crescent Club. "We were determined to purchase this property in spite of the timing and interest rate challenges", said Dayan from his 7th Avenue office. "We had confidence that Ackerman would deliver timely and at the best possible terms."
Bonjour Capital has been successfully amassing hundreds of units across the region taking advantage of the low interest rate environment and the creative financing Shaya Ackerman and Eastern Union have been able to offer. As Bonjour CFO Zev Freidman explains, "Flux in the market has been our friend. We buy smart, we buy safe and we believe in our past success."
The acquisition loan, provided by Signature Bank, features a 9 year term and 30 year amortization, with one year interest only. Though originally approved as an agency deal with alternative lenders, rapidly rising treasury rates and spreads compelled Ackerman to reverse the direction. With Eastern Union's recent surge of production and relationship volume, Ackerman had confidence that Signature would be the best lender to close this transaction.
The Bonjour name carries a lot of credit, which Signature was well aware of. The dynamics and chemistry between Bonjour, Eastern and Signature was instrumental in getting the deal closed in short order. According to Ackerman, "It was Bonjour's reputation and our strong relationship with Signature that enabled us to get this deal closed this fast."
The Crescent Club was purchased from Simon Development Group and Meadow Partners, who in 2012 took control of the property from creditors after the original builder defaulted before construction was completed. The property, originally designated to be condominiums, was converted to rentals by Simon Group and Meadow Partners.
In Long Island City, the Crescent Club rises above, towering over every building in a two-block radius and providing a sweeping view of the glittering Manhattan skyline. Boasting large two and three-bedroom apartments with two full baths and in-unit laundry facilities, the property is an urban habitat hidden from the Manhattan hassle. The Crescent Club is also an exceptional opportunity for renters who are tired of cramped, overpriced city-living but are not willing to sacrifice their short commute. With Manhattan only a seven minute train ride away and Queensboro Plaza just a three minute walk, getting to work on time need not be a worry for career-oriented professionals.
About Eastern Union Funding
Eastern Union Funding is the country's second-largest privately owned commercial mortgage company, on a transaction volume basis, serving the national commercial real estate sector. Specializing in loans up to $50 million, Eastern Union works closely with a wide spectrum of lenders to finance transactions for multifamily, office, retail, hotel, healthcare, industrial, construction, co-op and self-storage properties. The company has offices in New York, New Jersey, and Maryland.