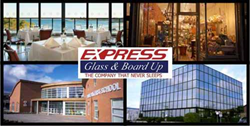 As a business ourselves, we know balancing time and money to stay successful is important
Fort Lauderdale, FL (PRWEB) April 25, 2016
Express Glass and Board Up, a residential and commercial glass repair company in Fort Lauderdale, Florida, is proud to announce an important response-time clarification for the upcoming 2016 Spring and Summer repair season. The response to a glass repair emergency at either a residence or a business will be within 30 minutes of the phone call. Storefront glass, windows, sliding glass doors and door glass are all included in terms of an initial inspection and quote.
"As a business ourselves, we know balancing time and money to stay successful is important," commented Yaniet Santos, general manager of Express Glass. "Most residential customers in Fort Lauderdale understand we have the fastest response time at 30 minutes. However, we learned that commercial customers haven't realized that this is available to them, too. That means whether it's 2 pm or 2 am, an employee or manager is standing around until help shows up. So they don't have to wait too long, we are committed to arriving within the first 30 minutes of a call."
To review the emergency glass repair phone numbers for Express Glass in Fort Lauderdale go to: http://www.expressglassfl.com/commercial-glass-repair/. Commercial glass repair and 24 hour service information is available, and interested parties are urged to either use the handy web form or call in to the company if they have any questions.
Ft. Lauderdale Commercial Glass Repair: A 30 Minute Response Time Helps Keep Budgets in the Black
Commercial glass repair in Ft. Lauderdale can happen any time. If vandals shatter a storefront window at 2 am, the business owner may have to leave home to secure a store while waiting for help to arrive. If an office window breaks, an employee may be paid overtime to stay after 5pm and supervise the commercial glass repair work. Long wait times for commercial glass repair to arrive may affect a company budget.
Express Glass has issued a clarification to the Ft. Lauderdale business community. The company is committed to a 30 minute response time for commercial glass repair. If the broken glass emergency call occurs day or night, the response will be 30 minutes. That means businesses waste less time and money waiting for commercial glass repair service. In a busy city where company budgets are carefully watched, quick emergency glass repair can help keep a Ft. Lauderdale business in the black.
About Express Glass Repair and Board Up
Express Glass and Board Up Service Inc. is a family owned and operated glass repair business with more than 20 years of experience. Professional technicians and the large variety of inventory make Express Glass the top glass repair service. Customers looking for Ft. Lauderdale commercial glass repair or sliding glass door repair, please reach out to the company for a free estimate. If customers need a 24/7 Sliding Glass Door repair or replacement service in Ft. Lauderdale or Boca Raton or Miramar, technicians are standing by. The company specializes commercial glass repair and residential glass repair and replacement. Technicians will handle any glass replacement situation efficiently. Home or business glass repair is the company's main priority.
Express Glass Repair and Board Up
http://www.expressglassfl.com/