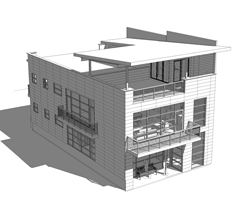 With our recent commercial additions and announcements—and more coming in the future—the Serenbe community continues to be inspired by the past, focused on the present and poised for smart, steady growth in the future, says Steve Nygren, Serenbe Founder.
Atlanta, GA (PRWEB) October 22, 2014
Serenbe moves beyond housing, retail and restaurants and expands into commercial office space to further its mixed-use placemaking strategy. Southeastern Engineering, Inc. (SEI) will become the first company to build a stand alone office building at Serenbe, and it will be used as headquarters for their environmental engineering division.
"With the recession behind us and the growth and value of walk-up communities, we are excited to move forward with the first of 200,000 sq. ft. of planned office space, says Serenbe founder, Steve Nygren. "We are also planning a 110-room hotel, and will announce details in early 2015."
A decade ago, Serenbe introduced sub-communities within the mixed-use master plan, beginning with the Daisy Courtyard shops followed by the European-styled Mondrian Artists retail compound. During the recession, The Nest, a cluster of small cottages, was developed and proved exceedingly popular. Earlier this year, Serenbe introduced Swann Ridge, home to the 2014 Atlanta Homes & Lifestyles Designer Showhouse, and in September, Grange Hillside broke ground and the immediate demand from singles and couples in their 30's represents an untapped demographic market. Each of these niche neighborhoods are within a few hundred yards of commercial retail and office space increasing Serenbe's walkability and healthy lifestyle.
FIRST OFFICE BUILDING TO OPEN JUNE 2015
SEI is scheduled to open for business in June 2015; the new office was designed by architect Michael Landry and is being built by Stonecrest Homes. SEI has worked hands-on with Serenbe since 2002. The company's role has been multi-faceted, providing the gamut of services including green infrastructure design and permitting, trail design, builder services, construction staking, final platting and more.
"More than twelve years later, our relationship with SEI continues to grow exponentially along with the community. And this exciting growth will continue to drive the future commercial and office space." says Nygren.
"Working with Serenbe has been a great opportunity for SEI to showcase its professional capabilities and be involved in the growth of the Chattahoochee Hills area," says Chad Epple, PE and Vice President of SEI. "We value the relationship we've forged with the community, and look forward to continuing it. This new office location suits both our needs and the needs of the Serenbe community."
COMMERCIAL SPACES OPEN WITH SUCCESS
Further addressing the need for office space at Serenbe is the opening of The Hive, a professional CoWork space created to provide efficient and inspiring work environments to the residents of Serenbe, Chattahoochee Hills and neighboring communities. Owned and operated by Serenbe residents Michael and Cindy Peters, who both work out of the community, they were inspired to work at their best when surrounded by other entrepreneurs. Another recent commercial expansion is The General Store at Serenbe, owned by another Serenbe entrepreneur and resident Nadine Bratti. The redesign of this commercial space was a winning collaboration with designer Smith Hanes and the store has already gained a loyal following since opening last month.
FIRST APARTMENTS BREAK GROUND
Serenbe's fast paced commercial growth will increase with the November ground breaking of the anticipated Textile Lofts. This will be Serenbe's first apartment building, located in Phase II Grange with over 10,000 sq. ft. of ground floor retail that already has a tenant waiting list. These varied segments of office, commercial and nearly 100 new homes under construction, in permit or design, total over $85M in new construction for 2015.
About Serenbe
Serenbe is pioneering a new community model connected to nature on the edge of Atlanta. It is a neighborhood with fresh food and fresh air that makes wellbeing as natural as nature itself. A community built with a sense of place; where people live, work, learn and play in celebration of life's beauty. With over 400 residents and 180 homes, Serenbe is the first community to successfully build a self-sustaining organic farm, three farm-to-table restaurants and over 30 businesses all connected by 15 miles of nature trails in a 1,000 acre rural place based development. http://www.serenbe.com
About SEI
Southeastern Engineering Inc. (SEI) is a Woman-owned Business Enterprise (WBE) as certified by the Georgia Department of Transportation (GDOT) Disadvantaged Business Enterprise (DBE) Program led by Teresa Epple, PE, and PTOE. The company was started in 1996 and has grown to offer traffic and transportation engineering, enhanced civil engineering, landscape architecture, land planning, land surveying, and seismic/subsurface investigation services. SEI main office is located in Cobb County and has clients throughout metro-Atlanta. http://www.seengineering.com