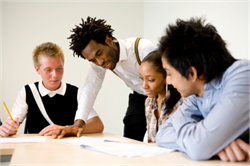 School counselors and teachers can collaborate in learning activities to improve students' career and college readiness.
Portland, Oregon (PRWEB) December 19, 2013
While Common Core education standards are controversial in some states, they do provide new opportunities for school counselors and teachers to collaborate. A new online guide by Career Key, http://www.careerkey.org, shows how counselors and teachers can work together to combine career and college readiness standards in learning activities.
In "Common Core and ASCA Standards, School Counselors, and Career Key," counselor educator Dr. Lawrence K. Jones, NCC offers tips and free resources to help school counselors integrate Common Core and the American School Counselor Association (ASCA) National Standards into their work. At the same time, he gives counselors ideas for collaborating with teachers in learning activities.
Links to resources include:
"Helping Middle School Students Get Career/College Ready with Holland's Theory," Dec. 13, 2013 webinar recording;
"Common Core State Standards: A Challenge and Opportunity for School Counselors," PDF eBook;
"Learning Activities with Overlapping ASCA National Model and Common Core Standards"; and
"ASCA and Common Core Standards Addressed in Career Key Test Taking Scenario."
Dr. Jones also explains the similarities and differences between the Common Core and ASCA National Standards. This article is the second of two guides specifically for school counselors. The first is called "Achieving ASCA National Standards" and also has companion downloads and helpful resources.
About the Career Key
Since 1997, Career Key has been the #1 Internet source for helping people choose careers and college majors. Career Key's author Dr. Jones is Professor Emeritus at N.C. State University and a nationally recognized counseling psychologist. Advertising and registration-free, Career Key offers a valid career test, information, and advice articles based on the best practices and science in the field.