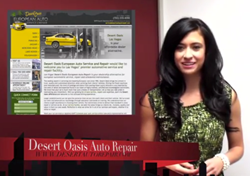 The best way to save time, money, and extend the life of luxury vehicles is to not skip a scheduled maintenance… Even better than catching a problem early on is to prevent it from ever happening, if possible
Las Vegas, NV (PRWEB) June 17, 2014
Top Las Vegas, NV Luxury Auto Service, Desert Oasis European Auto Repair, announces the 3 most effective ways to prevent unexpected luxury vehicle repairs. The experienced staff analyzed real cases brought into the shop, and is now offering customers the most effective solutions to help them extend the life expectancy of their vehicles, and save money.
Issues with engine, engine cooling, and power train have been recently identified by Car Problem Zoo as the top two problems for major luxury car brands. Many other common troubles have also surfaced for European vehicles, according to Desert Oasis European Auto Repair, such as leaking and vibration of different parts, which the expert staff recommends to care for early on, in order to avoid serious trouble and possible costly repairs in the future.
"The best way to save time, money, and extend the life of luxury vehicles is to not skip a scheduled maintenance… Even better than catching a problem early on is to prevent it from ever happening, if possible. Our thorough scheduled maintenance is designed to detect possible areas of risk and ensure they are cared for right away, cost-effectively," says George Kiss, co-owner of Desert Oasis European Auto Repair.
Averaging savings of at least 30 percent in comparison to costs charged by car dealers, while delivering excellent service and utilizing original manufacturer parts, the professionals at Desert Oasis European Auto Repair offer a few simple tips to keep luxury vehicles in check. The list further highlights the importance of preventive care, and provides an insight into how simple issues can escalate to major problems, if not promptly detected:
1. Check for leaks. Identifying and fixing different types of leaks early on can help prevent multiple issues in different compartments and overall. From trouble with coolant reservoirs; to air and water pumps; to heater valves – which can cause air conditioning units to malfunction and even engine overheat -; leaking can literally drain life out of the vehicle, in time. So keeping them in check is of utmost importance.
2. Do not ignore system alerts. Desert Oasis' staff often recognizes issues that have occurred as a consequence of not addressing system alerts. Surely, they also observe electrical malfunctioning, which causes panel warnings to go on for no apparent reason. But, in most cases, owners do not understand or give little or no attention to such indications. In doubt, experts advise to read the manual or take the car into a qualified service location.
3. Check for unusual vibration. "If something that never vibrated before is now producing noises or feels as if in motion or out of balance," says Kiss, "chances are, one or more parts need to be replaced or repositioned." George says, "It is very common for sway bar bushings to get very noisy, and if left unrepaired, they will throw the entire suspension out of alignment."
Staying aware of a vehicle's condition in between mileage-based scheduled maintenance, and following a regimented calendar are crucial steps in extending the lifespan of luxury cars, and making the high investment worthwhile. More information about Desert Oasis European Auto Repair can be found at http://www.desertoasisautorepair.com, and luxury vehicle owners are also encouraged to visit the shop, located at 2079 S. Rainbow Blvd. Las Vegas, NV 89146, or call (702) 255-4090 to schedule an appointment. General questions regarding common or particular issues of luxury vehicles may also be submitted electronically to their knowledgeable staff through service@desertoasisautorepair.com.
About Desert Oasis European Auto Repair
Desert Oasis European Auto Repair is a family owned and operated luxury auto repair service, servicing the Las Vegas, NV area for over 12 years. The staff is highly knowledgeable, and understands the importance of protecting their clients' investment and comfortable lifestyle. ASE certified and rated "A" by Angie's List, the company offers unparalleled service by highly trained technicians, and utilizes OEM parts only. Service and quality are always guaranteed, and additional services such as discounted car rental and shuttles are also available, to provide customers the ultimate auto service experience.
Additional details are available at http://www.desertoasisautorepair.com.